Here Comes the Real Brexit Fight Over Cash
Theresa May must negotiate a financial settlement with her own divided government as well as European leaders.
By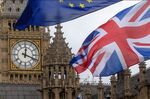 Follow @Brexit for all the latest news, and sign up to our daily Brexit Bulletin newsletter.
One thing at least is certain as Brexit negotiations restart after three months of scant progress: it will ultimately be settled at the bank, and the real fight is about to begin.
British Prime Minister Theresa May accepted for the first time in a much-hyped speech in Florence on Friday that Britain would pay its dues, contributing to the European Union budget through 2020 and also honoring its commitments more broadly. With the clock ticking and discussions resuming at about 5 p.m. in Brussels on Monday, the U.K.'s aim is to break the deadlock over the bill for severing 46 years of membership and move onto talks over what a future trade deal might look like.
The trouble is that there's no precedent, a starting point to frame the divorce. And the British themselves are squabbling over how much they owe, with May's rogue foreign secretary and key Brexit campaigner, Boris Johnson, reportedly unhappy over his prime minister's plans and ministers split over who they support.
Although the EU has never published a figure, European Commission President Jean-Claude Juncker said in March it would be about 60 billion euros ($71 billion), prompting outrage in the U.K. After EU governments upped their demands, the gross number became about 100 billion euros. On Sunday, Brexit Secretary David Davis rejected as "made up" a sum of 40 billion pounds ($54 billion) reported in the Times newspaper, and vowed to go through the EU's numbers line by line.
"Money is the most visible issue, the most sensitive, and the most likely to be the focus of disagreements," said Michael Leigh, a former European Commission director general who is now political adviser to law firm Covington.

Time is more on the side of the EU. As long as the U.K. refuses to acknowledge its obligations, the EU won't allow May's government to open discussions over post-Brexit trade.
On Friday, May alluded to a figure by saying that the U.K. is prepared to plug the black hole in the EU's budget for the two years after it leaves. If paid in full, that would come to approximately 20 billion euros. She also said the U.K. would honor commitments "made during the period of our membership." That indicates she's willing to pay Britain's share of unpaid bills, which would add up to at least another 20 billion euros, two people familiar with the Brexit negotiations.
Other people with knowledge of the EU's thinking said it might help kick-start negotiations, and could pave the way for compromise, but it still falls a long way short of the demands of some EU governments. 
Some are taking a harder line than the EU's Brussels negotiators and want more commitments to be taken into account. All are adamant that the U.K. must agree on a methodology for the financial settlement with the bloc before trade talks can proceed, according to a Bloomberg survey of the EU's 27 other members published last week. 
May's speech "still hasn't explicitly committed Britain to all of its financial obligations in the EU budget," Michael Stuebgen, the lead lawmaker on European affairs for German Chancellor Angela Merkel's Christian Democrats. She won a fourth-straight term in power at the weekend. "Unfortunately, this speech won't lead to the new dynamic in the talks that are so badly needed."

That said, there are two pieces of good news for the U.K.
First, the EU isn't demanding a final figure before it allows discussions of trade talks to begin, only a U.K. acknowledgment of where it has obligations. Second, EU officials realize how difficult any sum will be for May to sell politically and they could help "disguise" the true cost through a series of different types of payments. It's possible that a grand total will never be revealed, a person familiar with the talks said.
What's sure is that any future dealings between the two sides will be influenced by the nature of the settlement, and any goodwill will depend first on whether Britain can unite behind a figure that's palatable both in Brussels and within the U.K. cabinet.
"The U.K. needs to admit it has legal obligations under its EU membership in order to pay for some of its legacy costs, some of its liabilities, but exactly where the ax is going to fall will have to be negotiated," Fredrik Erixon, director of the European Centre for International Political Economy in Brussels, said before May's Florence speech. "The U.K. is not showing its hand because there's not a unified government position."
Closer Union
The EU has only ever expanded, growing from six sovereign states when Britain applied to join in the early 1960s to 28 now. It was never supposed to have an exit door. Officials who drew up the rules for withdrawal, a clause in the EU treaty called Article 50, never expected it to be used. There's no mention of any cash settlement.
Making calculations based on the EU budget is notoriously complicated. Working out the U.K.'s share based on past commitments, liabilities and deferred payments is even more complex. The European Commission compared it in February to paying for a round of drinks at the pub.
Bruegel, the Brussels think tank that did much of the early number crunching, said crucial to deciding how much Britain owes is answering the nuanced question "is Brexit a divorce, or is the U.K. leaving the club?"
The U.K. believes the EU's calculation based on principles first set out in a document it published in May is wildly inflated, though until May's speech had refused to even hint at what it would be prepared to pay. That, in the words of one person with knowledge of the British negotiating approach, would be like turning up half your cards in a game of bridge.
The EU's stance is that because the U.K. agreed to the seven-year budget running until 2020, it's liable for all projects right up until the end of that period.
Britain is balking at many of the EU's financial demands. They range from relatively small amounts such as funding the salaries of teachers in schools for the children of European officials until the end of the 2021 academic year to larger payments such as funding connected to the EU's international aid programs, to which the U.K. has contributed about 4.5 billion euros.
The EU's chief Brexit negotiator, Michel Barnier, welcomed the "constructive spirit" of May's speech, though he told reporters at the end of the last negotiating round in Brussels on Aug. 31 he wasn't optimistic anything would be agreed before an October EU summit. When talks resume on Monday, EU officials will be trying to find out quite how far the U.K. has caved.
— With assistance by Hayley Warren, Tim Ross, Jonathan Stearns, Tony Czuczka, and Emma Ross-Thomas
Before it's here, it's on the Bloomberg Terminal.
LEARN MORE