German Anti-Merkel Populists Face Split as Leader Shuns Caucus
By
Rift opens up the morning after biggest election triumph

Petry walks out after criticizing AfD rhetoric as too extreme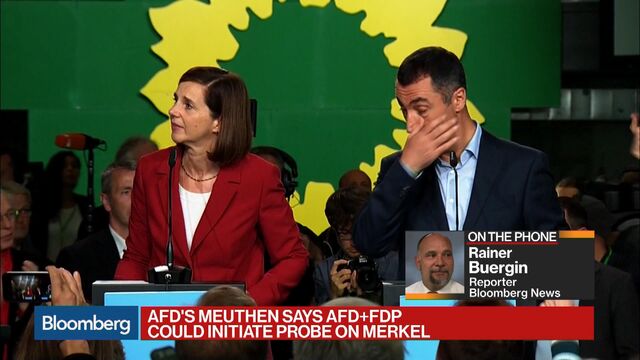 Alternative for Germany, the populist party that won its first seats in the nation's parliament on Sunday, faced an immediate rift when one of its best-known leaders said she won't join the caucus.
A day after its biggest electoral triumph, the anti-immigration party, known as AfD, signaled its potential for unpredictability over the next four years as Frauke Petry, its national co-chairwoman, walked out of a news conference in Berlin where two other party leaders celebrated its 13 percent share of the federal vote.
Founded in 2013 to oppose financial bailouts of other euro-area countries, the AfD focused its campaign on vilifying Merkel for her open-borders refugee stance and says it now wants to be a combative opposition party. Chancellor Angela Merkel said Monday she accepts that her policy is partly responsible for Germany's "polarization" and pledged to try to win back AfD voters who defected from mainstream parties.

Petry, who won 37.4 percent of the vote in her district in the eastern state of Saxony, has differed over strategy with the AfD's campaign headliners, Alice Weidel and Alexander Gauland, who she has suggested aren't doing enough to attract middle-of-the-road voters.
"I have decided that I won't belong to the AfD caucus in the German Bundestag, but will sit as an individual member for the time being," Petry, 42, told reporters. Before walking out, she said the AfD needs to start a "conservative turnaround" with the aim of joining Germany's government after the next scheduled election in 2021. 
Influence Question
Petry said she'll "continue to be active in policy making." It wasn't immediately clear if others in the AfD's 94-member caucus would join her in shunning an official affiliation.

"A high share of votes for the AfD was predictable from the polls and we can continue to assume that the AfD will not influence government politics in Germany for the foreseeable future," Commerzbank analysts including currency strategist Ulrich Leuchtmann said in a note to clients.

Petry's move sheds light on discord within the lower house's youngest party that remained below the surface during the campaign. While support for Merkel's Christian Democratic-led bloc fell to the lowest since 1949, she won a mandate for a fourth term and no other party in parliament wants to ally with the AfD.
In an interview with the Leipziger Volkszeitung newspaper before the election, Petry said "middle-class voters are turning away" from the AfD because some of its members are making headlines that tarnish the party's reputation. 
Controversial Comments
Her criticism followed comments by Gauland, who said Merkel's refugee commissioner, who is of Turkish descent, should be "disposed of" in Anatolia, a comment the chancellor called racist. Gauland, a former member of Merkel's Christian Democratic Union, also said Germans have a right to take pride in the achievements of German soldiers in the 20th century's two world wars.
The AfD narrowly missed winning seats in the 2013 election. After infighting over the party's direction, Merkel's handling of the refugee crisis in 2015 saved the AfD from disintegration and gave it a new lease on life.
— With assistance by Arne Delfs
Before it's here, it's on the Bloomberg Terminal.
LEARN MORE