French Trucker Protest Fizzles as Macron Labor Law Takes Effect
By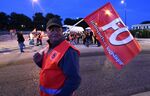 French truckers struggled to muster a widespread protest against an overhaul of the nation's labor code three days after the changes were signed into law by President Emmanuel Macron.
Truckers slowed traffic around major French cities on Sunday night and early Monday morning though the movement has yet to lead to extensive delays, according to television reports and Agence France-Presse.
"We are always open to dialogue, but in the respect of the law," junior economy minister  Benjamin Grivaux said on RTL radio Monday. "It's out of the question that the French economy will be blocked."
Macron signed his landmark changes to the French labor code Friday, completing his first economic reform after four months in office. Five separate decrees give French companies more power to negotiate hours and pay, slash the number of workers' committees and limit penalties for wrongful dismissal.
Unions and opposition politicians lead by Jean -Luc Melenchon are still hammering at the subject all the same as they also try to stir up resistance to other issues like the budget cuts that will be announced Wednesday.
Before it's here, it's on the Bloomberg Terminal.
LEARN MORE