Five Things You Need to Know to Start Your Day
Get caught up on what's moving markets in Asia.
By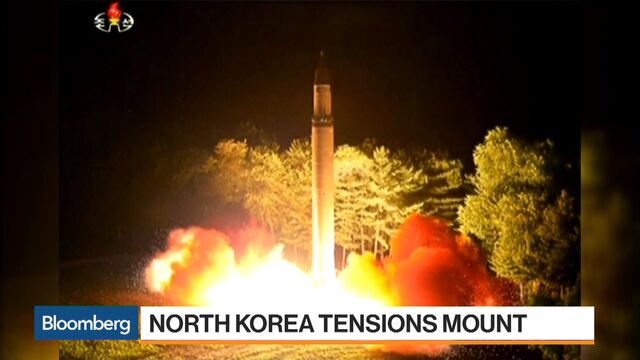 Want to receive this post in your inbox every morning? Sign up here.
North Korea claims right to shoot down U.S. bombers, Turkey warns it can "close the valves" on Kurdish oil shipments, and Fed's inflation debate heats up. Here are some of the things people in markets are talking about.
Declaration of War
North Korean Foreign Minister Ri Yong Ho said President Donald Trump's tweet this weekend amounted to a declaration of war -- far from the first time the rogue state has made such a claim. White House press secretary Sarah Sanders called that suggestion "absurd." More disconcertingly, North Korea also claimed the right to shoot down U.S. bombers -- even outside its airspace. Ri's remarks provided a bid for gold, Treasuries, and other haven assets like the yen and Swiss franc. National Security Adviser H.R. McMaster says that the U.S. "cannot discount" the possibility of war with Kim Jong Un's regime, though the nation is aiming to avoid such an outcome. Chinese Ambassador to the UN Liu Jieyi told Reuters tensions between the U.S. and its neighbor have become "too dangerous." Some experts are cautiously optimistic that the recent rounds of sanctions imposed on North Korea will be more successful than previous iterations.
Crude Feud
Brent crude oil jumped to levels not seen since July 2015 as Turkish President Recep Tayyip Erdogan threatened to "close the valves" on Kurdish oil exports. Iraq's Kurds headed to the polls on Monday to participate in an independence referendum that's expected to show a landslide in favor of secession. Analysts at Citigroup also warned that there's a risk of a crude shortage emerging as early as next year, which would further buoy prices. The Permian Basin could be key to any supply response in the event of higher prices, with IHS Markit Ltd. estimating that the area holds 60 to 70 billion barrels of recoverable reserves.
Inflation Debate
A pair of Fed officials offered diverging takes on the central bank's inflation "mystery" on Monday. New York Fed President Bill Dudley expressed confidence that fading one-off effects and a weaker dollar would help inflation trend back to 2 percent, and warrants the gradual withdrawal of monetary stimulus. However, Chicago Fed President Charles Evans expressed concern that the shortfall in price pressures may be more structural than temporary. The debate continues on Tuesday, with Fed Governor Lael Brainard and Chair Janet Yellen set to give speeches while Cleveland Fed President Loretta Mester moderates a panel. Minneapolis Fed President Neel Kashkari will also host a town hall meeting in North Dakota at 7:30 a.m. Tokyo time.
Tech Tumult
Tech stocks -- especially the FANG quartet -- came under acute pressure Monday, with the Nasdaq 100 suffering a loss of more than 1 percent, its worst showing since mid-August. Value stocks continued to play catch-up with their growth counterparts. The S&P 500 Index and Dow Jones Industrial Average posted smaller losses, while the Russell 2000 Index managed to close in positive territory. The euro and kiwi were the two worst-performing G-10 currencies after this weekend's elections produced a smaller-than-expected Merkel victory in Germany and an inconclusive outcome in New Zealand.
Futures Mixed
Nikkei 225 futures are trading to the downside ahead of the open while S&P/ASX 200 futures remain in positive territory. The MSCI Asia Pacific Index fell for the third straight session to kick off the week. Economic data due out Tuesday include New Zealand's trade balance, forecast to show a monthly deficit of 825 million kiwis in August after July's slim surplus, and industrial production in Singapore, projected to dip 1 percent month-on-month in August. The minutes from the Bank of Japan's July meeting are also slated to be released.
What we've been reading
This is what caught our eye over the last 24 hours.
Before it's here, it's on the Bloomberg Terminal.
LEARN MORE