Barnier Demands Brexit Concessions Clarity as Talks Resume
By and
EU wants Theresa May to offer more details on her proposals

Start of trade negotiations in October remains uncertain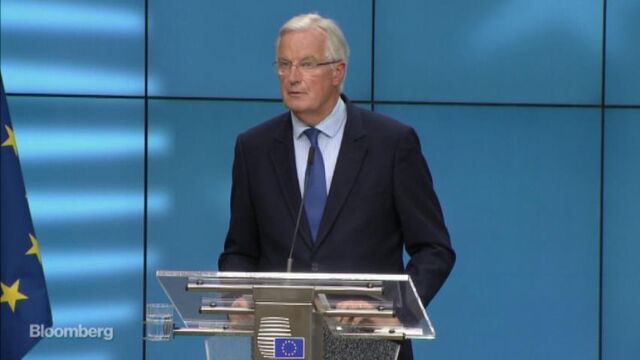 The European Union's chief Brexit negotiator Michel Barnier signaled the bloc won't agree to start discussing a trade deal with the U.K. until the British government offers additional clarifications about the concessions that Prime Minister Theresa May appeared to offer last week.
"This moment should be a moment of clarity," Barnier told reporters in Brussels on Monday, as he met his U.K counterpart David Davis. "What's important now is for the government of the U.K. to translate the speech into a clear negotiating position" the French official said, referring to May's speech in Florence on Friday.
Davis promised to get down to technical details and called for pragmatism on both sides.
Before meeting Davis, Barnier briefed a group of European affairs ministers on the talks. Several ministers said there was general agreement among the EU's 27 remaining governments that more details are needed on May's proposals before negotiations can advance to the next stage. The participants, who declined to be named as the meeting was private, said that there isn't much optimism that EU leaders can sign off next month on talks moving on to trade, as the U.K. wants.
May's speech "was a small step in the right direction," Denmark's Foreign Minister Anders Samuelsen said in an interview after Barnier's briefing.
Barnier and Davis kick off the fourth round of negotiations, with hope on both sides that May's speech will at least give some impetus to break the deadlock over the financial settlement, the rights of EU nationals and the Irish border. The EU has said that enough of an agreement has to be reached on those issues before talks on the future relationship can begin.
Both the EU and Britain had penciled in a summit in mid-October for the moment when EU leaders could give the green light for talks to move on to the next stage. While May offered to honor the financial commitments the U.K. has made during its membership and abide by EU rules and regulations during a transitional period of up to two years, she didn't give details about where the U.K. thinks it's on the hook.
Barnier also noted that his mandate from EU governments only covers the withdrawal and not any agreement over the transition. "Discussion on a transition period can only begin once we reach an agreement on an orderly withdrawal," he said.
— With assistance by Ian Wishart, Peter Levring, Slav Okov, and Aaron Eglitis
Before it's here, it's on the Bloomberg Terminal.
LEARN MORE