ANC's Mabuza Says South African Ruling Party Needs Unity Candidate
By
Leader of Mpumalanga province says party tearing itself apart

Mabuza won't serve in ANC leadership if facionalism continues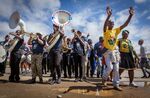 David Mabuza, premier of South Africa's Mpumalanga province, said the ruling African National Congress needs to coalesce around a unifying candidate at a December conference where leaders will be elected to end infighting that is damaging the party.
Factions backing Nkosazana Dlamini-Zuma, the former head of the African Union and an ex-wife of South African President Jacob Zuma, and Cyril Ramaphosa, the country's deputy president, are "far apart," Mabuza said on Monday on The Justice Factor, a program screened by broadcaster eNCA. Unless there is unity, Mabuza said he will not consent to serving in a leadership position.
"We see an ANC that is gradually depleting itself, rather than growing," he said. "We are tearing ourselves apart. If we are counting factions, count me out."
The conference, which will bring to an end Jacob Zuma's leadership of the party, is being closely watched as an indicator of the future direction of country and the longevity of the party that has led South Africa since the end of apartheid as a succession of scandals has tainted Zuma's leadership and slashed public support for the movement. The ANC has lost leaders who have quit the party because of faction fights at leadership conferences in 2007 and 2012 and gone into opposition, he said.
While Mabuza would not name a potential candidate to lead the party, he said that if it remains divided Dlamini-Zuma will emerge victorious.
Mabuza is said to be a member of the so-called Premier League, one of three leaders of rural provinces, that until recently were assumed to back Dlamini-Zuma, who is the preferred candidate of the current national leader, Jacob Zuma.
Before it's here, it's on the Bloomberg Terminal.
LEARN MORE