Abe Bets Japan Has Momentum to Power Through Tax Hike
By and
The risk is that increasing the sales levy sinks consumption

Low unemployment is helping Japan but wage gains are needed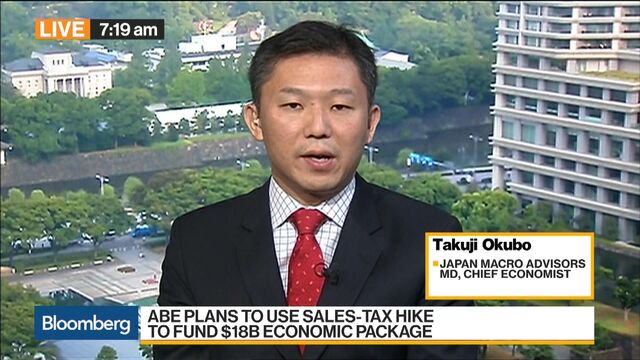 Prime Minister Shinzo Abe is gambling that the economy will be strong enough to withstand another hike in the nation's sales tax, after an earlier bump in the levy under his watch pushed Japan into recession.
While nobody will know if he's right until the rate jumps to 10 percent in 2019, Abe has between now and an election that may come as soon as Oct. 22 to convince voters that it's a good bet.
He can point to an economy that's significantly stronger than the one he inherited, and the benefits of his plan to divert increased tax revenue into education and child care. His critics can cite weakness in wages, inflation and consumption.
Here's a chart-based look at how far Japan has advanced since Abe came to power in late 2012 and how much work lies ahead to ensure the economy remains on a firm footing.

After the tax-induced contraction when the levy went to 8 percent in 2014, and mixed results in 2015, GDP has picked up. Japan has now strung together six consecutive quarters of economic growth, the longest run of expansion in more than a decade. The outlook is bullish for next year as well, with exports supporting large manufacturers and the Bank of Japan forecasting GDP to rise 1.4 percent in fiscal 2018.

Despite the overall improvement, investment and consumer spending have yet to take off. The most recent reading of business spending missed expectations while household spending also came in below estimates. Both will have to pick up to make the recovery self-sustaining and to reduce reliance on exports. And resilience in consumer spending in particular will be the key to avoiding a contraction in fiscal 2019.

The job market has steadily improved since Abe came to power, with unemployment falling to 2.8 percent, the lowest among Group of 7 countries. That hasn't meant better pay for all workers, however. Hourly wages have climbed consistently, mainly for the expanding ranks of part-time workers, but many of the country's other wage indicators haven't seen strong gains. Still, the central bank and a growing number of private economists are watching intently for the tight labor market to bring a much-needed wages breakout.

Monetary policy under Abe's pick for central bank governor, Haruhiko Kuroda, has focused on wresting the economy free of deflation. Prices have seen some pickup but inflation remains well below the Bank of Japan's 2 percent target. The BOJ expects 1.5 percent price growth in fiscal 2018. Healthy inflation is seen as the key to a virtuous cycle in the economy, and is also important as Japan seeks to grow its way out of its debt woes.

Despite efforts to bring spending under control, the nation's infamously high public debt has continued to mount during Abe's tenure as social welfare costs rise with the aging population. With the election approaching, Abe outlined plans to spend more on improving conditions for people working in elderly care, and indicated that Japan may have to drop a long-standing goal of achieving a primary balance surplus by fiscal 2020.
If the central bank's forecasts are any guide, GDP growth may slow to 0.7 percent in fiscal 2019, while core inflation accelerates to 2.3 percent, vindicating Abe's choice.
"The overall impact is likely to be less than half of last time," said Yuichi Kodama, chief economist at Meiji Yasuda Life Insurance Co. in Tokyo. "I doubt that the sales-tax hike itself will have enough impact to cause a recession on its own. It really is a matter of external environments and how overseas economies are faring."
— With assistance by Isaac Aquino, and Yuko Takeo
Before it's here, it's on the Bloomberg Terminal.
LEARN MORE