Switzerland Rejects Pension Reform in National Plebiscite
By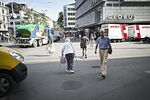 Swiss voters rejected a revamp of the pension system that critics said was a "sham reform" that amounted to a "worthless check" for the young.
The proposal was turned down by 52.7 percent of voters, the government said on Sunday. An increase in the sales tax to help fund the reform also failed. A poll by gfs.bern earlier this month had indicated the reform would pass by a narrow margin.
The federal government and other proponents of the plan, which would have raised the retirement age for women and boosted each new state pension by 70 francs ($72) a month, had argued it was a fair compromise that would prevent big financial shortfalls down the road. Yet critics, among them a pro-business youth party and the Swiss Association of Employers, said it would actually worsen the deficits and place an unfair burden on young people.
The "no" vote sends the government back to the drawing board. It could be some time before it announces a Plan B.
Before it's here, it's on the Bloomberg Terminal.
LEARN MORE