May Tells France U.K. Wants to Remain Close Ally After Brexit
By
Opinion piece says goal is to see EU, U.K. 'prosper together'

Premier says EU requests on budget are 'exagggerated'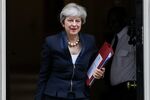 U.K. Prime Minister Theresa May continued a charm offensive to ease European worries about Brexit by writing an opinion column in France to say Britain will be reasonable about the conditions of its departure and wants to remain the nation's closest ally after it exits.
"My message to the citizens of France is clear: In the years to come, the United Kingdom wants to be your friend and closest partner," May wrote in the column, published in French weekly Journal du Dimanche two days after a speech in Florence. "We want to see the EU and the United Kingdom prosper together, side by side."
May said she knows the U.K. can't "pretend to benefit from the advantages of membership without accepting the duties." She also repeated that the U.K. will "honor the commitments it made when it was a member of the EU." Nevertheless, she said certain requests made in relation to the EU budget are "exaggerated" and warned that the issue can only be solved as part of a deal on all other matters.
In her Friday speech in Florence, May said that the U.K. is prepared to plug the EU's budget gap during a transition that would probably be about two years after the country withdraws from the bloc in 2019. This would equate to about 20 billion euros ($24 billion). But the EU wants more, possibly as much as another 80 billion euros in gross terms, to cover past commitments, and it's unclear to EU negotiators whether May promised to pay for that.
Before it's here, it's on the Bloomberg Terminal.
LEARN MORE