Five Things You Need to Know to Start Your Day
Get caught up on what's moving markets in Asia.
By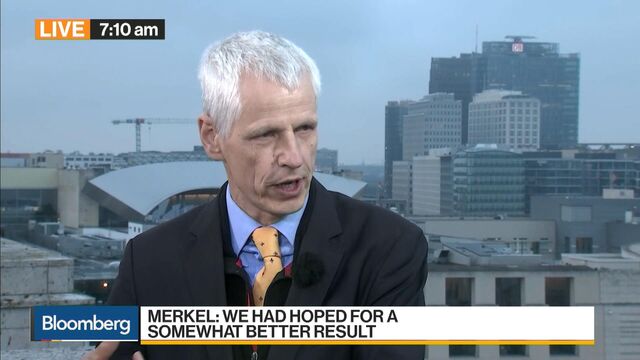 Want to receive this post in your inbox every morning? Sign up here.
Merkel's victory not so sweet, North Korea and U.S. continue to trade barbs, and an inconclusive election in New Zealand. Here are some of the things people in markets are talking about.
Pyrrhic Victory
Angela Merkel has won a fourth term as chancellor of Germany – but the Christian Democrats didn't do as well as anticipated in Sunday's  general election, while support for a far-right party surged. Without a majority, the Christian Democrats will need to enter into coalition in order to govern – which may prove to be a tricky task. Support for the Social Democratic Party, Merkel's primary challenger, sank to a postwar low; in the aftermath of the vote, the party ruled out any renewal of entering into another governing coalition. The euro fell in early trading following the vote, with strategists at SEB AB calling the results a setback for any deeper integration of the currency union. The populist Alternative for Germany was the beneficiary of the drop-off in votes for centrist options, becoming the first far-right party to enter parliament in about seven decades.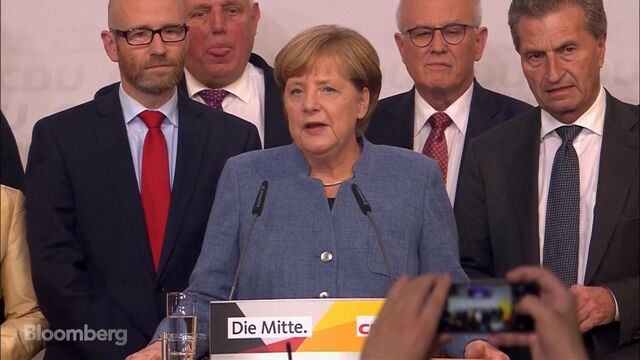 Suicide Mission
The war of words between North Korea and the U.S. continues to rage on. Speaking at the United Nations General Assembly on Saturday, North Korea foreign minister Ri Yong Ho said Trump – not Kim – is the one on a suicide mission, adding that the regime was prepared to strike first with nuclear weapons. These remarks came on the heels of U.S. bombers flying a mission off the North Korean coast and an earthquake near the location of its Sept. 3 test site. Russian Foreign Minister Sergei Lavrov said North Korea's atomic capabilities have effectively deterred the U.S. from a preemptive attack. The rogue state held an anti-U.S. rally in Pyongyang on Saturday. Perhaps more importantly, China banned condensate exports to North Korea and announced caps on shipments of refined oil products to its neighbor starting in October, a sign that U.S. President Donald Trump's pressure is bearing fruit.
Inconclusive Result
New Zealand's incumbent National Party won a plurality of seats in Saturday's election – but came just shy of securing a majority. The kiwi is coming under moderate pressure in early trading thanks to the inconclusive result, and talks may drag on for weeks. Prime Minister Bill English is pressing his claim to form government, but will need the support of Winston Peters' anti-immigration New Zealand First Party. Meanwhile, Labour Party leader Jacinda Ardern refuses to concede defeat and could form government by way of a three-party coalition with New Zealand First and the Greens. In a radio interview, English said the chances of a deal with New Zealand First were "pretty good," suggesting that talks between the two sides could take two to three weeks.
Coming Up...
At 9:30 a.m., the preliminary print of the Nikkei Japan manufacturing PMI for September, which improved to 52.2 in its previous reading, will hit the wires. Later in the day, the nation's leading and coincident indexes for July are also slated to be released. Bank of Japan Governor Haruhiko Kuroda is scheduled to deliver a speech in Osaka at 2:30 p.m. Tokyo time. Elsewhere, Singapore is poised to release inflation data for August, with the headline rate forecast to hold steady at 0.6 percent year on year while annual core inflation decelerates a tick to 1.5 percent. Nikkei 225 and S&P/ASX 200 futures are both trading modestly to the upside ahead of the open.
Repeal Efforts on Life Support
What appears to be the Republican Party's last-ditch effort to repeal and replace the Affordable Care Act this year doesn't have sufficient support from its senators. Two have publicly said they'll vote against the Graham-Cassidy bill, while others have publicly expressed misgivings. The measure will fail if more than two Republicans vote against it, and the Senate will only be able to pass such a proposal with a simple majority by Sept. 30. Trump took to Twitter to criticize Arizona Senator John McCain for his opposition, while suggesting that other senators would ultimately throw their support behind the bill. At least 21 million fewer Americans would have health insurance from 2020 through 2026 if the Graham-Cassidy proposal becomes law, according to the Brookings Institute; the Congressional Budget Office hasn't yet been able to put together its own estimate.
What we've been reading
This is what caught our eye over the last 24 hours.
Before it's here, it's on the Bloomberg Terminal.
LEARN MORE