Corbyn Pulls Off Feat of Not Discussing Brexit at Conference
By
U.K. opposition leader warned he will be a 'laughing stock'

Party seeks to avoid alienating 'Leave' and 'Remain' voters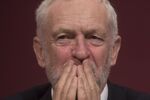 Follow @Brexit for all the latest news, and sign up to our daily Brexit Bulletin newsletter.
Jeremy Corbyn just doesn't want to talk about it.
Brexit is the U.K.'s biggest task, and Labour is acting like a government-in-waiting after Prime Minister Theresa May lost her parliamentary majority. But the leader of the main opposition party keeps dodging the topic.
He even managed to avoid it at the party's annual conference, where he was faced with an attempt to force Labour to commit to keeping the U.K. in the European Union's single market. Lawmakers warned that the party would be seen as a "laughing stock" after 24 motions on Brexit were rejected in favor of debates about health and social care, housing, pay, railways and the fire at Grenfell Tower in west London.
"We need to talk about Brexit," Labour lawmaker Alison McGovern said in an interview after the decision was announced on Sunday evening. "It's the biggest issue for our country and will be the biggest issue for whoever is the next government."
Given the headache Brexit has caused May and her Conservatives, avoidance and obfuscation might be an astute political move in what has the makings of a messy divorce. There is little upside in getting too involved in an outcome that may be a fait accompli by the next election five years from now, or sooner.
Biding Time
The uneasy truce on Brexit that had seen Labour through June's election was broken on Sunday when a group of senior members used a letter to the Observer newspaper to call for permanent membership of the single market and customs union.
"It is simply unsustainable to say we are an anti-austerity party but that we would jeopardize ties with our biggest trading partner," the members said in the letter, which was signed by more than 30 lawmakers. "For the sake of jobs, public services, peace in Ireland and the rights of everyone who calls the U.K. home, we must offer a clear alternative to the Tories' destructive Brexit."
Corbyn, a lifelong euro-skeptic persuaded by his party to support "Remain" in last year's referendum, pushed back against the idea. He said it would tie a future Labour government's hands over things such as state aid and renationalizing the railways.
"We need to look very carefully at the terms of any trade relationship because at the moment, we're part of the single market. Obviously that has within it restrictions on state aid and state spending," Corbyn said in an interview with BBC Television. "We have to be quite careful about the powers we need as national governments."
By the Sea
A debate in the seaside city of Brighton, England -- where the party's conference is being held this week -- would have laid bare splits in the party and among its backers in the trade unions.
The threat to jobs and working conditions as a result of free movement of labor, one of the four freedoms linked to EU membership, is among the impediments to agreement among party members.
John McDonnell, the party's treasury spokesman, said EU free movement rules make it "difficult to see" how the U.K. could stay in the single market while addressing voter concerns about immigration. He argued that an agreement on tariff-free access to the market would achieve the same goals.
Labour was able to hedge its position during the election campaign by committing to "retaining the benefits of the single market and the customs union" and keeping protection for workers and the environment without saying how it would do it.
That phrasing avoided alienating both blue-collar euro-skeptics in the north of England and pro-European middle-class voters in London and the southeast.
Still Campaigning
Corbyn has put the party on permanent election footing and steers clear of Brexit in speeches to supporters, preferring to reinforce his populist anti-austerity message while leaving detail about the EU to Keir Starmer, the party's Brexit spokesman.
Starmer has harried May in Parliament by opposing her plans to give ministers power over converting EU regulations into British law, and he said Britain should stay in the single market during a transition period after leaving.
He told delegates on Monday that Labour is ready to take over negotiations if it comes to power. "Labour are now the grown-ups in the room," Starmer said in a conference session on international affairs in which there were interventions on Brexit but no vote. 
The party will continue to be fluid in its approach to Brexit, he said. There will be "no rash, ideological red lines preventing a sensible deal, no fantastical, 'blue sky' proposals," he told the conference.
"Remaining in a form of customs union with the EU is a possible end destination for Labour," Starmer told delegates. "We are also flexible as to whether the benefits of the single market are best retained by negotiating a new single-market relationship or by working up from a bespoke trade deal."
The party's governing National Executive Council later produced an agreed statement that reiterated the flexible position used in the general-election campaign. Lawmaker John Trickett called on delegates to "show maximum unity by endorsing our position" for a "jobs-first Brexit."
"Labour is clear that we need a tariff- and impediment-free trading relationship with the European Union," the statement said. "Labour's priority is an outcome that puts jobs, living standards and the economy first."
A series of pro-EU Labour lawmakers took to Twitter on Sunday evening to condemn the decision not to hold a decision-making debate on Brexit at the conference.
"No Brexit vote at Labour conference?! How utterly ridiculous," former economy spokesman Chris Leslie wrote. "Many members will be shocked at maneuvering to avoid biggest issue of our time."
Heidi Alexander, who previously was Corbyn's health spokeswoman, was more blunt: "I am gobsmacked," she wrote. "We will be a laughing stock."
— With assistance by Robert Hutton, and Alex Morales
Before it's here, it's on the Bloomberg Terminal.
LEARN MORE