Brexit Sound and Fury Fades as EU Moves On to Bigger Themes
By
EU Commissioner Katainen says defense, trade dominate agenda

Poland is emerging as a key worry for the EU, Katainen says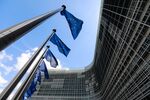 The European Union is making it abundantly clear that it has more important issues to worry about than Britain's departure from the bloc.
Now that the EU is finally out of crisis mode, it's more interested in working on defense, monetary union and human rights than Brexit, according to the European Commissioner for Jobs and Investment Jyrki Katainen. He says that, aside from those officials specifically tasked with dealing with the U.K.'s exit talks, the rest of the Commission doesn't even touch the subject on a weekly basis.
"As important as it is to have a good deal and settle the situation, it doesn't dominate the work of the EU at all," Katainen said in an interview in Helsinki on Friday. "I'm not saying this because I would like to undermine the importance of these negotiations, but simply there are bigger issues on the agenda."
Dominating the EU's to-do list are the risk of cyber threats and hybrid attacks, a tighter monetary union and closer trade ties to the rest of the world, he said. The Commission targets finalizing one trade deal with an external partner every six months, Katainen said.
Read more on Brexit negotiations in light of U.K. Premier May's speech on Friday
The 45-year-old commissioner served as Finland's finance minister and then prime minister during Europe's debt crisis. He joined the EU Commission in 2014, first as its economy chief before overseeing a portfolio that targets job creation.
Katainen says he worries more about the development in Poland than in Britain. The EU Commission is investigating whether the government in Warsaw is living up to the bloc's rule-of-law requirements in the first such probe of its kind of a member state. Poland risks being stripped of its voting rights in the EU if it's found to have broken the rules.
Read more on Poland's authoritarian shift and the attack on its judiciary
"I'm deeply worried about the current breaches of rule of law in Europe," Katainen said. "I think that all problems in fundamental rights issues -- whether they are human rights issues, human dignity-related issues, or rule of law -- are more serious problems than Brexit is. Because in Brexit, at the end of the day, it's a matter of making compromises. But you cannot compromise on human rights or rule of law."
Before it's here, it's on the Bloomberg Terminal.
LEARN MORE