Brexit Department Loses 20% of Workers in 14 Months
By
A total of 124 civil servants leave department; 482 remain

Freedom of information data reveal scale of staff turnover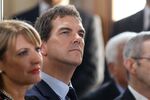 Follow @Brexit for all the latest news, and sign up to our daily Brexit Bulletin newsletter.
Oliver Robbins, the onetime top official at Britain's Department for Exiting the European Union, is just the tip of the iceberg of the exodus of officials from the government body created to handle the brunt of divorce.
The department's only been around for 14 months. Besides Robbins, 124 employees have left and 482 remain, according to the government's reply to a freedom of information request from Bloomberg. That's a high turnover that suggests civil servants don't enjoy working in the department focused on one of the biggest political challenges in decades.
DExEU countered that fewer than five of those officials had left the civil service altogether -- which in turn could be an indication that civil servants could also be passing through to rack up experience and gain rapid promotion elsewhere.
"The majority moved on to other government departments because their loan, contract or fast stream rotation ended," the department said. "Given the large majority of these changes were the result of normal civil service rotation or the end of defined loan periods, these roles were quickly filled."
DExEU said it didn't hold records on whether those leaving or joining the department were promoted.
Robbins's departure was announced last Monday, after the Aug. 18 cutoff point for the freedom of information data. He moved to the Cabinet office, where he'll be Prime Minister Theresa May's EU adviser -- a new position.
Before it's here, it's on the Bloomberg Terminal.
LEARN MORE