Balance of Power Extra: How Merkel Won and Lost at the Same Time
By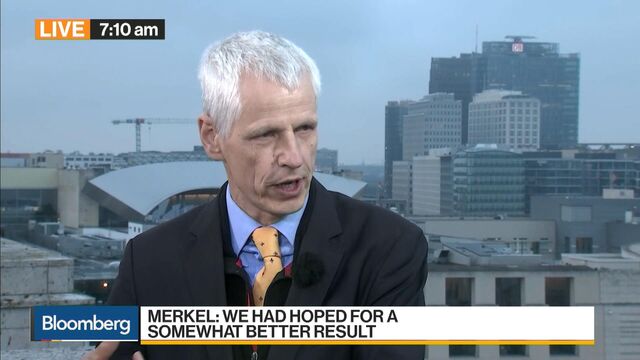 Angela Merkel is lucky to come out of the wreckage of Germany's election with her hold on the chancellery more or less intact.
Her party unexpectedly recorded its weakest result since 1949, and was helped to victory by her main challenger, Martin Schulz's Social Democrats, performing even worse. The chief beneficiary was the anti-immigration, anti-Islam Alternative for Germany party, which won seats in the Bundestag for the first time.
The hollowing out of the two main parties' support presents Merkel with two main problems, one domestic and one international.
First, she needs to form a government to take her through another term. She seemed surprised by Schulz's move to go into opposition without considering a rerun of their coalition of the past four years, a decision that leaves her looking at a three-way tie-up with the Greens and pro-business Free Democrats that is untested at the national level.
Then she'll face pressure from French President Emmanuel Macron to commit to euro-area reform that she may find harder to deliver than ever.
Amid multiple demands, perhaps the hardest challenge will be to heal the divisions in German society laid bare by this election.

Sign up to receive the Balance of Power newsletter in your inbox, and follow Bloomberg Politics on Twitter and Facebook for more.
Global Headlines
What changed? | The biggest losers were Merkel's CDU-led bloc and the SPD. Both parties have dominated German politics since World War II but this time only got around 52.5 percent of the vote. The biggest winner was the AfD, which channeled the slow reemergence of long-suppressed nationalism, especially in the former Communist east. With the populist Left party also doing well, Germany's political center is getting smaller and smaller.

Who are the AfD? | The populist party's leadership rejects suggestions that they are from the far-right fringes, and argues they're simply patriots who are the only ones prepared to stand up for German interests. Rainer Buergin takes a look at the group's history, personalities and what they want to do in parliament.
The "Jamaica" option | A combination of the CDU, the Greens and the FDP — dubbed a Jamaica coalition because the colors of the different parties match those of the Jamaican flag — gives Merkel the most likely route to a parliamentary majority. Such an alliance was formed in one German state this summer and Merkel has kept tabs on it since. But it won't be easy to put together as she'd have to find common ground with parties that have very different policies on issues such as tax cuts and deeper integration with Europe.
Market impact | The euro dropped 0.4 percent to $1.1903 as Asian markets opened after the SDP ruled itself out of a coalition, making the formation of a new government more tricky. Merkel's potential partners — the FDP — could also provide a setback for further euro integration, weighing on the currency, while the far-right AfD entering parliament for the first time could cause "jitters," says Credit Agricole strategist Valentin Marinov.
What happens to Merkel's right-hand man? | Finance Minister Wolfgang Schaeuble is not only one of the most powerful politicians in Germany — he's also one of the most important in Europe. While there's little doubt he wants to stay on, the election outcome makes that harder and the FDP lost no time in making a pitch for his job. But even in a new coalition, Merkel will be loathe to give up his position, and will surely be willing to make substantial concessions to keep him there.
And finally... Will Germany have a new government before Christmas? Given the complexity of the talks ahead, it will be a while before we know what kind of government Merkel will lead. German voters haven't given any party an outright majority since 1957, forcing them into coalition talks that can often last for weeks. As this chart shows, even the shortest negotiations of recent times still took a month.

— With assistance by Kathleen Hunter, John Ainger, and Hayley Warren
Before it's here, it's on the Bloomberg Terminal.
LEARN MORE