Canada Nafta Negotiator Sees More Movement Than Labor Leader
By and
Steve Verheul sees 'solid progress,' waiting on U.S. proposals

Unifor head says he doesn't think U.S. is serious about deal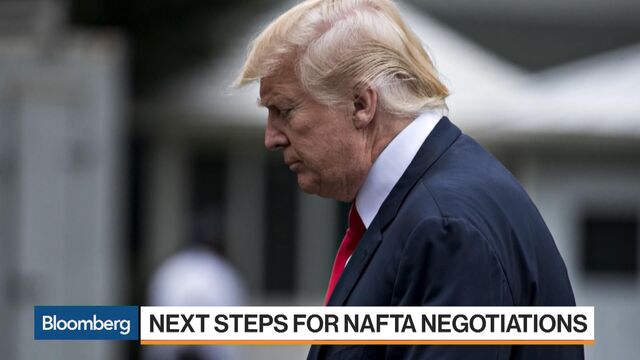 Talks toward reworking the North American Free Trade Agreement are progressing well, even though the U.S. hasn't made detailed proposals in some of the most divisive areas, Canada's chief negotiator said.
Steve Verheul, speaking to reporters Sunday in Ottawa during the third round of talks, said the tone remains constructive and there's no signal the U.S. will walk away, though he said several U.S. proposals have yet to be revealed.
"We're making good solid progress," Verheul said, declining to commit to meeting the December target for a deal. "The endgame is always the hardest part and impossible to predict."

His comments came after Jerry Dias, the head of Canada's largest private-sector union, said he doesn't expect a deal by the end of the year and criticized U.S. negotiators. Dias isn't in the closed-door negotiations but is among union leaders working closely with Canadian Prime Minister Justin Trudeau as he presses for Nafta reforms on labor.
"There's no progress, things are going very slow," said Dias, head of Unifor, whose members include autoworkers. "There's no meaningful discussions. It looks as if the tactics are, we're the big player and we're going to force the agenda, and if you don't like it, too bad, so my guess is everybody just walks away."
U.S. President Donald Trump has called Nafta a "disaster" and blamed it for a decline in U.S. manufacturing jobs. He's seeking to substantially rewrite the deal, targeting the U.S. trade deficit with Mexico in particular.
Autos, Dairy
Verheul and Dias spoke on the second of five days during the third round of talks. Key subjects such as labor and rules of origin, which govern how much of a product must be made within Nafta countries to benefit from the pact, are set for negotiation on Tuesday and Wednesday.
The U.S. hasn't made detailed proposals on dairy, so-called Chapter 19 dispute settlement or on automotive rules of origin, Verheul said. Overall rules of origin are being discussed "in depth," he said. The countries have "a shot" at concluding some chapters during the third round, which runs until Wednesday, he said.
Nafta's Chapter 19 mechanism allows review by independent, bi-national panels -- instead of judicial review by domestic courts -- in anti-dumping and countervailing duty cases.
One contentious part of trade talks are investor-state dispute settlement procedures. Should the U.S. look for "voluntary" rules on the matter, Canada would want to see details before saying whether it would be open to that, Verheul said. He said he's seen no sign anyone will walk away from talks.
"As in any negotiation, there are moments when things get a little more heated but for the most part I'd say it's been quite constructive," he said.
U.S. Response
While Dias said the U.S. hasn't presented detailed submissions, Canada's Verheul said the U.S. has "put forward a number of proposals" in a majority of 28 working groups. A spokeswoman for U.S. Trade Representative Robert Lighthizer rejected Dias's comments.
"The NAFTA negotiations are progressing at an unprecedented pace, with the United States tabling text in 27 chapters in the five weeks since negotiations began," spokeswoman Emily Davis said in an email. "The United States remains committed to substantially changing NAFTA for an agreement that is fair for all Americans."
Labor Proposals
Another Canadian labor group called on the U.S. team to treat Canada's labor proposals more seriously, saying there are reports the U.S. isn't relaying Canada's proposals to its stakeholders.
"The Canadian government is not kidding around in terms of their labor proposals. This is strong stuff," Christopher Monette, director of public affairs for the Teamsters Canada union, told reporters Sunday. "We think it needs to be taken more seriously by U.S. negotiators."
Officials have downplayed expectations of breakthroughs in the Ottawa round of talks.
Sunday's discussion topics included customs, textiles, services trade, government procurement, digital trade, state-owned enterprises, financial services, environmental issues, regulator practices and legal issues, according to an itinerary obtained by Bloomberg.
No Mexican officials provided updates on talks as of Sunday afternoon.
Before it's here, it's on the Bloomberg Terminal.
LEARN MORE