Who Killed U.S. Inflation? Here Are Suspects in Yellen's Mystery
By
Was it technology, in the factory sector, with wage deflation?

From foreign workers to Amazon and airfare, suspects abound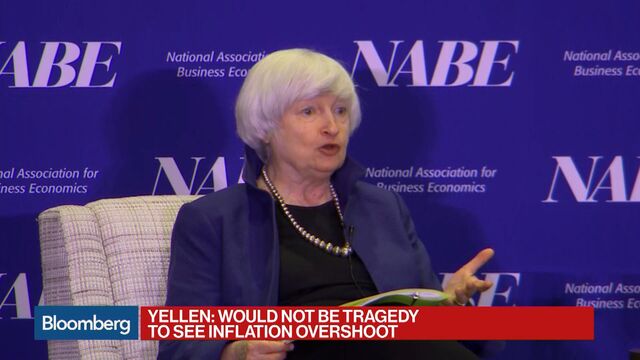 Was it the seamstress in Bangladesh, with her low wages? Or Jeff Bezos, with his low prices?
Federal Reserve Chair Janet Yellen has labeled this year's unexpected inflation slowdown a "mystery," and there are a few possible suspects.
Previously, factors such as labor-market slack, falling fuel costs and cheap imports explained why price gains weren't headed toward the Fed's 2 percent goal. Those explanations no longer hold as much water. Joblessness has dropped to 4.4 percent, the dollar is falling and energy prices have stabilized. A pricing issue with cell-phone plans earlier in the year no longer explains the broader slowdown.
If inflation is an enigma, why? Shadow labor-market slack could be causing the delay by holding down wage and price pressures. But other -- and more persistent -- perpetrators could be at work: globalization, technological disruption, and demographics, to name a few. Here's the lineup.
Suspect No. 1: Labor Slack

Labor-force participation remains depressed relative to its pre-crisis norm, but most economists think that's the product of slow-burning demographic changes. If they're wrong, and some share of the decline is related to economic weakness, companies may still be able to tap an additional pool of potential workers. That could be enabling them to keep wages low, both allowing them to maintain profit margins without raising prices and reining in consumer demand.

This might be the best-case scenario for the Fed, because in it their most fundamental economic model -- in which a tight labor market spurs rising prices -- holds. But there's also reason for doubt. Importantly, company comments and job-vacancy numbers both suggest that labor shortages are real. In the face of surprisingly gradual pay gains, that indicates something is preventing employers from raising wages and prices despite labor-market tightness.
Suspect No. 2: Amazon

Yellen may have Bezos -- the billionaire founder of Amazon.com Inc. -- and his contemporaries to thank for 1.4 percent price gains. The Amazon-inflation theory goes like this: Online marketplaces have enabled consumers to buy the products we purchase most at the lowest prices possible with the click of a button. Because consumers can seamlessly switch to a competitor's product if one seller hikes prices, this leaves stores without much pricing power. Gone are the days of buying something off-the-shelf at a markup because doing so is more convenient than shopping around.
Sounds reasonable, but this theory isn't a perfect fit. For all of the anecdotes about limited price-raising ability, research out earlier this year suggested pricing power may have increased over time: in 2014, the average publicly traded firm charged prices 67 percent above its marginal production cost, up from 18 percent in 1980.
Suspect 3: Bangladeshi Seamtresses

It's possible that a more globalized labor supply is holding down wages and inflation. The specific title and country is an oversimplification here. From factory workers in Bangladesh and China to coders in Canada, it's become increasingly easy to outsource work thanks to technology and integrated global supply chains. That means that in the face of a labor shortage, companies could choose to move workers overseas before raising wages.
This theory is a little suspect as a comprehensive explanation: imports haven't shown any big surge as the labor market tightens. What's more, slow wage and price gains have been broad-based, not unique to trade-able industries.
Suspect 4: Grandma and Aunt Ethel
It's not entirely clear how much demographics affect inflation, but there does seem to be a relationship: International Monetary Fund research last year showed that Japanese prefectures that aged faster saw lower overall inflation between 1990 and 2007, for example. Another IMF study from 2014 found that a large elderly population reduces inflation in advanced economies, especially if it isn't paired with strong overall population growth. Logically, there's a wage hand-off as America's massive post-World War II generation ages out of the labor market.
"We're seeing Baby Boomers retire and are replacing them with younger, cheaper workers — this limits upward pressure on wages," Megan Greene, chief economist at ManuLife Asset Management, wrote in an email.
If demographics are depressing trend wage and price increases, that would be bad news for the Fed, because it's the type of structural change that doesn't fade away.
Suspect 5: That $103 Flight to Miami

Moving away from big, long-running trends and honing in on the up-to-date details, Omair Sharif, Societe Generale's senior U.S. economist, pins the blame for 2017's current below-target inflation on three transitory factors: airlines, apparel and used cars. Price wars in those categories have been driving down costs, and because they're big parts of the American consumption bucket, that's having a significant effect on prices.

On one hand, those indexes are volatile and could snap back. On the other, there's not a lot of reason to believe that the more long-term inflation drivers to which they'll pass the baton will actually accelerate. Take housing: It makes up a significant chunk of the best-known gauges, and if supply comes on line faster than household formation generates demand next year, disinflationary forces could lie ahead.
"The other stuff is noise, and it'll turn around," Sharif said. "When it turns, if shelter hasn't moved higher, or if it comes off as I expect it to, that's going to be a problem."
— With assistance by Sho Chandra
Before it's here, it's on the Bloomberg Terminal.
LEARN MORE