Maria Fallout Lays Bare Puerto Rico's Sharp Income Divide
By and
Nursing home desperately searches for diesel to keep power on

Hotels block residents hoping for a taste of cool lobby air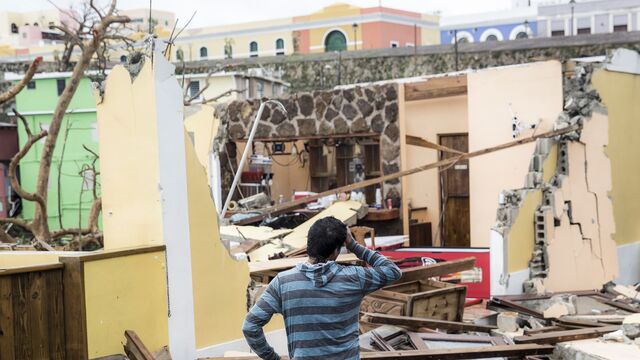 A humanitarian crisis began to take hold in Puerto Rico on Saturday, three days after Hurricane Maria hammered the commonwealth, and its most vulnerable citizens were the most exposed.
Health-sector workers said the island was nearing a critical moment as some care organizations ran low on fuel for generators. Maritza Lamoso, executive director at Residence Senior Living in the Puerto Nuevo section of San Juan, said she'd put out 20 calls for emergency diesel and been visited by the Federal Emergency Management Agency, or FEMA. But as of Saturday afternoon, she still had no fuel.
"If the diesel doesn't arrive today, I'm going to have to start removing people," she said from the lobby of the center, adding that two other facilities in the same network were in similar circumstances.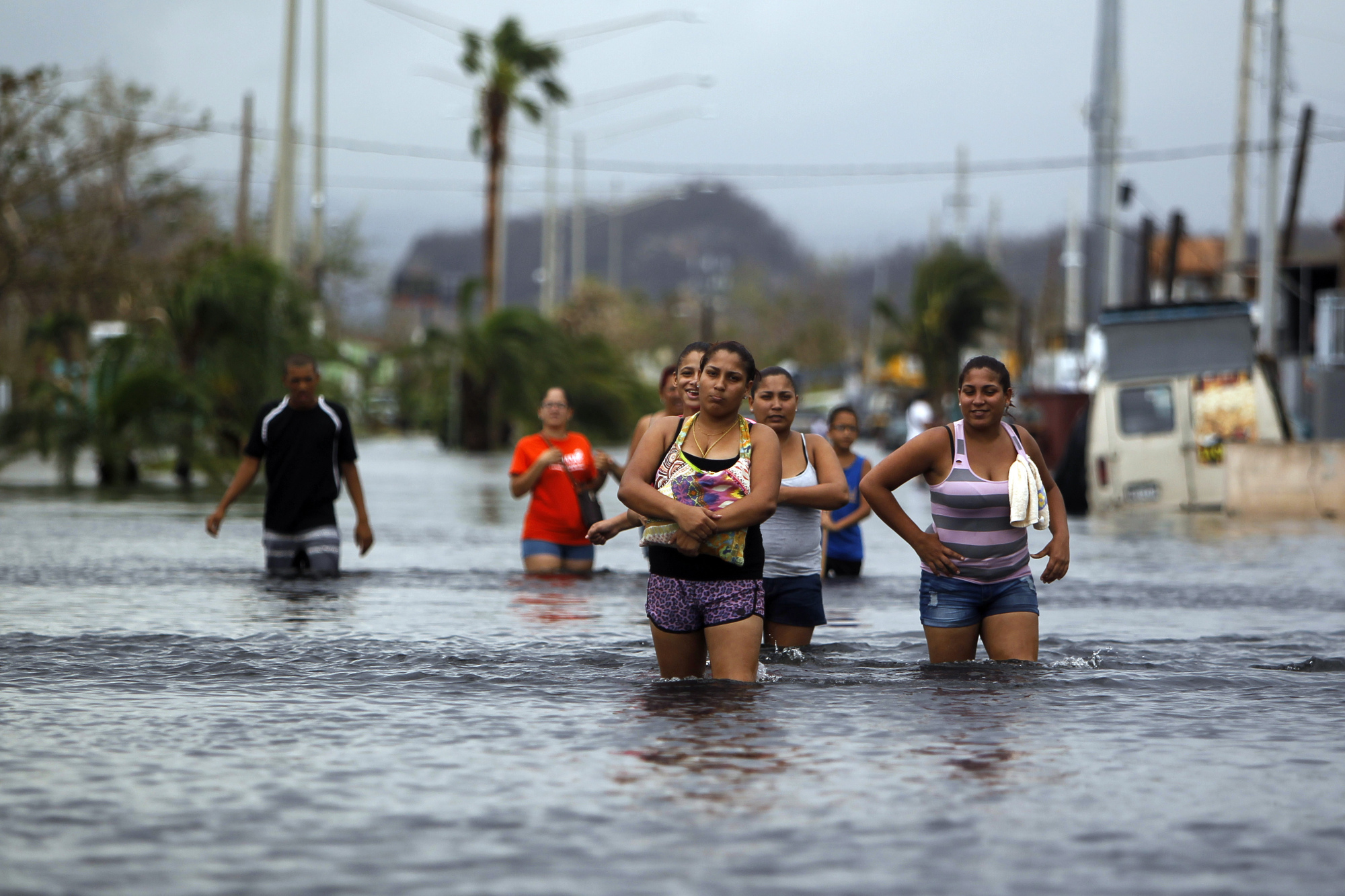 Governor Ricardo Rossello, who met with mayors and state and federal officials in San Juan on Saturday, said agencies were rushing to deliver fuel to hospitals, bring water, food and other aid to isolated communities, and evacuate families living near a failing dam in the northwest. The government couldn't begin to estimate the financial toll, he said, but it would be more than the billions of dollars in damage caused by Hurricane George in 1998.
"This is, without a doubt, the biggest catastrophe in modern history for Puerto Rico in terms of the damage to infrastructure and in terms of damage to the island as a whole," he said. "Our consideration is not a fiscal consideration. It's restoring people's security and restoring normalcy."
On an island marked by sharp income disparities, there was a notable ratcheting up of private security by those at the top.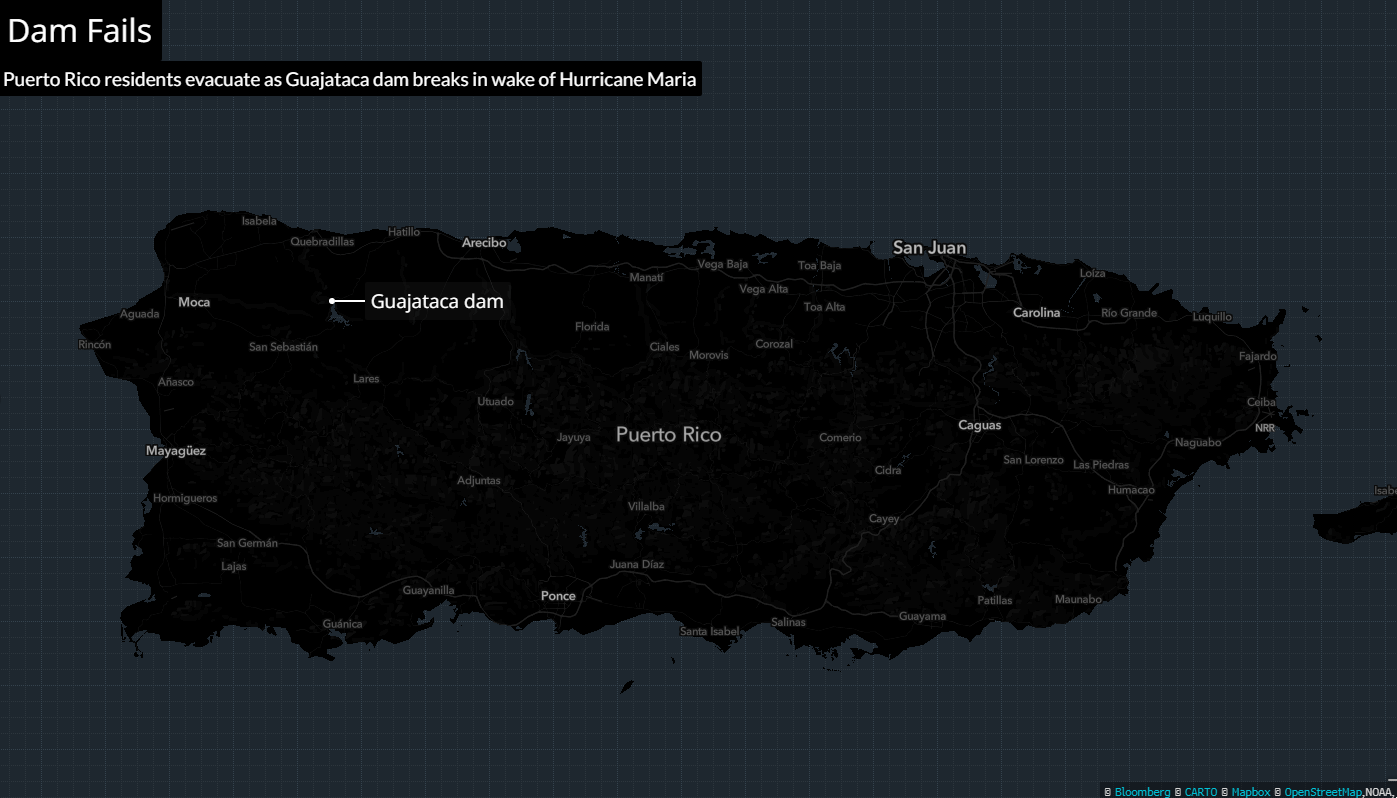 At billionaire hedge fund manager John Paulson's hotels in hip Condado, workers turned away non-guests trying to get into the lobby for a burst of cool air or to charge a phone. An employee at the Vanderbilt said the hotel had withstood the storm. At La Concha, several men could be seen tossing apparently ruined carpets from top floor windows, and they landed with a thud in a massive pile.
Paulson's organization noted La Concha was being used as a FEMA headquarters and that the Vanderbilt had been used as a FEMA-approved bunker.
"Both hotels weathered the storm very well, with minor water damage which is currently being fixed," according to a statement. "The hotels are open to all guests and doing their best to provide services during this challenging time."
Traffic Lights
San Juan maintained a semblance of order despite the difficult conditions. At the few gas stations that began reopening, lines stretched for many city blocks and resembled massive traffic jams. Rossello said there was no shortage of gas, but that distribution was hampered. He pleaded with residents to stay calm. With traffic lights out, police were present at some major four-way intersections, although many others were unmanned.

The feeling was more desperate outside the capital city. The north coastal town of Manati had run out of fuel and fresh water, Mayor Jose Sanchez Gonzalez said.
"Hysteria is starting to spread. The hospital is about to collapse. It's at capacity," he said, crying, according to the Associated Press. "We need someone to help us immediately."
Nursing Home
Authorities in the town of Vega Alta on the north coast said they'd been unable to reach an entire neighborhood called Fatima, and were particularly worried about residents of a nursing home.
The death toll from Maria was at least 10 in Puerto Rico, including two police officers who drowned, and the number was likely to keep rising, according to the AP.
Rossello said he traveled to the towns of Quebradillas and Isabela in the northwest near the Guajataca dam, to urge residents to evacuate. A hole in the dam had turned into a "significant rupture," he said, but it had not collapsed. The National Weather Service kept an emergency flash flood alert in place.

At the nursing home in San Juan's Puerto Nuevo neighborhood, five of some 35 residents had already been moved because they were reliant on oxygen. But for most of the rest, the plan was just to send them home with relatives, most of whom were living in hotboxes themselves.
Water was a concern, too, for health facilities. Residence Senior Living had an emergency supply, but Lamoso, the facility's executive director, warned it would soon need to be refilled, and taps still ran dry in San Juan on Saturday.
Thyroid Meds
Outside Puerto Rico Drug Pharmacy in Old San Juan, a cardboard sign said the store opened at 9, but the line was 30 deep by 8:45 a.m. Nivia Rodriguez, 59, a government employee, was there for her thyroid medication, Synthroid. She couldn't go without it.
Another sign in the window said "no water," but a swell of relief washed over the crowd when it turned out they actually had a supply. One by one, customers were admitted to the dark store and followed step by step by an employee. "Water is the most important," said Rodriguez, a veteran of Hurricane Hugo who said she could handle the lack of air-conditioning.

Local news reports had said Puma, like Total, would begin selling gas Saturday and the line was massive Saturday afternoon. Luis Daniel Taveras, a 23-year-old diesel mechanic, sat with an umbrella and a red fuel can. He said he needed enough to get back to work soon in his truck. "People started arriving at 6," he said, sitting about 50 canisters back in the line. (People had got up to chit-chat and move around, but used their fuel canisters to hold their place in line.)
"We need to work to eat," Taveras said, wiping the sweat from his brow on a piping hot afternoon.
'Report for Duty'
In a working-class section of San Juan, Fabio Valentin, a 44-year-old plumber, said he had about two days worth of diesel generator fuel for his wife and four children. He said his family could make do without power. "But there are a lot of people, older folks on this block, that can't."
He was glad the storm had passed and was taking it all in stride but worried about the economic disruption. "I'll report for duty Monday," he said, "but without phones, no one can call for service."
Authorities seemed to be doing the best they could to address urgent priorities with limited resources. A Total truck sat parked in front of San Jorge children's hospital in San Juan, one of the preeminent pediatric-care facilities on the island. A police officer guiding the truck into place said it was there to fill the generator, and that -- given the circumstances -- the hospital was doing well.
Rossello said about 25 percent of the communications systems, principally in the metropolitan area, was functional. The government plans to distribute satellite phones to mayors to improve communication, he said.
With phone lines down since the storm, Ivette Martinez, 38, knew little about the condition of her home in Dorado. She and her husband and daughter sat near the dock at the mostly abandoned port in San Juan, where a Carnival cruise line had arrived Saturday to drop off Puerto Ricans, including Martinez, who were returning for the first time since the storm tore through their island.
Martinez, a Sam's club cashier, was given the option to stay on the boat and head to Miami -- a golden ticket to many on the island who want off, yet are finding no outbound planes.
But she had to return to see her house. "I don't know what condition my home is in," she said. "I heard some windows broke, and I'm concerned about everything inside. All my things."
Before it's here, it's on the Bloomberg Terminal.
LEARN MORE