How Trump Inadvertently Eased Pressure on Xi to Rein In Kim
By and
U.S. leader praises counterpart for something he did weeks ago

Confusion may ease tension over North Korea's weapons program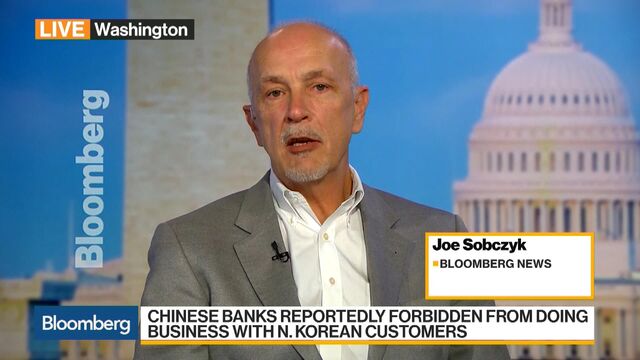 President Donald Trump had big news to share: China, under U.S. pressure, had just ordered its banks to stop doing business with North Korea. Here was proof that President Xi Jinping was finally acting to rein in his ally.
"I want to just say, and thank President Xi of China for the very bold move he made today," Trump said Thursday in a meeting with the leaders of Japan and South Korea. "That was a somewhat unexpected move and we appreciate it."
Problem was, the banking freeze resulted from United Nations Security Council sanctions crafted by China and the U.S. together. Trump was giving Xi credit for something he didn't do and inadvertently easing a key sticking point between the two nations -- what to do about Kim Jong Un's pursuit of nuclear weapons.
"We're carrying out the details of UN resolutions," said Yang Xiyu, a former China negotiator in the six-party talks on North Korea's nuclear program that collapsed in 2009. "All of China's economic sanctions against North Korea are under the UN framework, and there aren't any unilateral moves by the Chinese government itself."
Trump presented China's action as a response to his speech at the UN General Assembly earlier this week in which he said the U.S. would "totally destroy" North Korea if forced to defend itself. The president was speaking at a "working lunch" with Japanese Prime Minister Shinzo Abe and South Korean President Moon Jae-in shortly after Reuters published a news report about the recent move by China's central bank.
Earlier Guidance
But the People's Bank of China was only explaining guidance it had previously published on Sept. 11, instructing banks and other financial entities to suspend accounts after Security Council sanctions adopted Aug. 5. The panel was acting in response to Pyongyang's tests of two intercontinental ballistic missiles that could potentially reach the U.S. mainland.
"China's central bank has been strengthening sanctions against countries like North Korea since last year and the banks themselves also don't want to do business with North Korea," said Chen Shujin, a Hong Kong-based financial analyst at Huatai Securities Co. "They don't want to give people elsewhere an excuse on any dealings with the country because their overall exposure is very minimal."
Asked about Trump's comment Friday, Chinese Foreign Ministry spokesman Lu Kang said, "as far as I know, the situation you have described is not consistent with the facts." He gave no explanation but added, "in principle, China has always implemented the UN Security Council's resolutions in their entirety and fulfilled our due responsibility."
Fuel, Cash
The Trump administration has been pushing Xi to go further, threatening to expand unilateral U.S. sanctions if China doesn't stop the flow of fuel, cash and other resources over its border with North Korea. China favors action by the UN, where it has resisted the harshest moves that might cause Kim's regime to collapse or create instability on its border.
In his speech, Trump expressed outrage that some nations would "arm, supply, and financially support a country that imperils the world with nuclear conflict," without naming names.
Trump's praise comes at a helpful time for Xi, who's trying to contain trade and security disputes with the U.S. ahead of a crucial midterm leadership reshuffle next month. Both sides will also be looking for successful meetings in November, when Xi hosts his U.S. counterpart for a state visit to Beijing.
China's effort to implement sanctions shows it is willing to punish North Korea for breaking international law, said Bonnie Glaser, senior adviser for Asia at the Center for Strategic and International Studies in Washington. 
"There is apparently a policy review underway in Beijing regarding policy toward Pyongyang," she said. "Even though it is probably ongoing, reports that China has instructed its banks to end transactions with North Korea suggest a tougher stance."
'Vassal Forces'
The prospect of war has sparked discussion among academics in Beijing about maintaining support for the Kim dynasty, which dates back to the Korean War. The allies have grown apart over the decades, with China opening up to become the world's second-biggest economy, while North Korea grew isolated and impoverished.
Underscoring increased tensions, North Korea's Korean Central News Agency accused China's state media Friday of "collusion with the imperialists." China had hurt North Korea at a time "when the U.S. and its vassal forces have reached the extremes in their frantic moves to impose sanctions," KCNA said.
Christopher Hill, a former U.S. ambassador to South Korea and negotiator on North Korea's nuclear program, said Friday that China's willingness to pressure Kim probably reflected concern that his actions will cause instability, rather than resulting from U.S. pressure.
"I would caution against the view that somehow this was caused by the president's speech," he told Radio Television Hong Kong. "It really has to do with the growing frustration within China."
— With assistance by Enda Curran, Alfred Liu, and Peter Martin
Before it's here, it's on the Bloomberg Terminal.
LEARN MORE