The Evolution of Theresa May: Less Strong, More Together
The British prime minister's two big Brexit speeches show how her tone has shifted during 2017.
By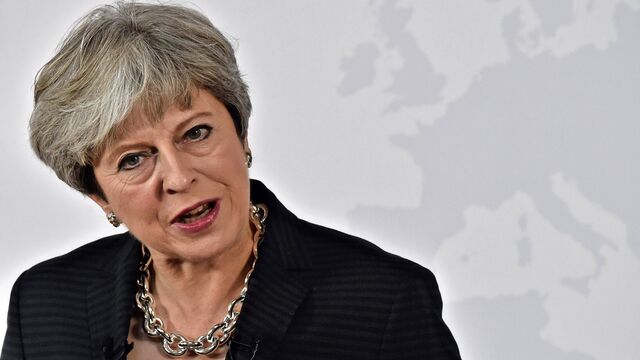 One of Theresa May's most infamous lines is "nothing's changed." In fact that is far from true, an exclusive analysis of her Lancaster House speech of January 2017 and her Florentine address eight months later shows. Her tone, and her choice of words, paint a very different picture.
May's mentions of the U.K. drop from 118 at Lancaster House to 70 in Florence, according to Adam Tiouririne, a leadership communication adviser at Logos Consulting Group, who crunched the numbers. May also downplayed domestic hot-button issues like immigration and whether the U.K. will retain access to the single market, while mentions of "partnership" more than doubled, from 19 to 40.
And about that transition. There were four mentions of a "period of implementation" for any eventual Brexit agreement. There were none before.

Gone was "Global Britain," the catchphrase she mentioned 10 times at Lancaster House, and in came "creativity," a concept alluded to 10 times in the Tuscan capital. 

The speech's tone was also far more conciliatory than May's London kickoff. She halved her use of "strong" and "strength," and nearly doubled her use of "together." Even the tiniest words—like "if," which jumped from four mentions to 15—hinted at a flexibility that could represent either a rhetorical gambit or genuine anxiety.
Before it's here, it's on the Bloomberg Terminal.
LEARN MORE