Merkel Vows German Stability in Final Campaign Pitch to Voters
By , , and
Three-term chancellor is front-runner for Sunday's election

Merkel, SPD opponent hold closing rallies amid far-right surge
German Chancellor Angela Merkel made her final pitch to voters saying she'll keep Europe's dominant country in the political middle of the road, shouting over noisy far-right protesters as she wound up her re-election campaign before Sunday's national vote.
With all polls showing Merkel's Christian Democratic-led bloc in the lead, the three-term chancellor positioned herself as a bulwark of stability whose international standing will help maintain peace and prosperity. Social Democrat Martin Schulz, her main opponent, told his supporters that Germany faces four years of "stagnation and lethargy" if she's re-elected.

"Everybody feels that we're living in uneasy times, in a time of great challenges," Merkel told a crowd of several thousand in Munich late Friday, her last large campaign rally before Sunday's vote. "That's why I think we need a policy that has always made Germany successful -- one of measure in the center."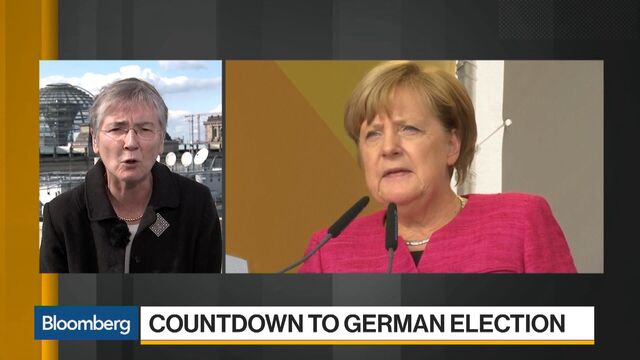 Polls in the final week suggest that support for the two biggest parties, Merkel's Christian Democratic Union and the Social Democrats, is slipping slightly. Smaller parties gained, particularly the anti-immigration Alternative for Germany party, or AfD, which is poised to become the first far-right party to enter parliament since World War II.
With the Bundestag, or lower house of parliament, set to expand to six parties in the national vote, building a governing coalition may be the most difficult yet. Assuming that Merkel wins, there's a higher probability that she'll ally with the pro-market Free Democrats and the Greens than renew her alliance with the SPD, which has governed since 2013, Holger Schmieding, chief economist at Berenberg, said in a note to clients.
Path to Power: Eight Places That Shaped Angela Merkel
Far-right protesters who have persistently dogged Merkel at campaign stops blew whistles and jeered throughout her closing rally in Munich late Friday, signaling persistent discontent over her open-borders refugee policy among a minority of voters.
"Whistling and shouting definitely isn't the way to shape the future," Merkel retorted at the start of her speech.
Across the country in Berlin, Schulz renewed his accusation that Merkel had refused to engage on crucial issues, such as retirement benefits.
"You have the choice between a chancellor who avoids any debate about the future of this country and one who may not always speak diplomatically, but says which direction he wants to go," Schulz told a crowd in the downtown Gendarmenmarkt square.
Read more: Why Merkel's re-election bid matters beyond Germany: QuickTake
Support for Merkel's bloc was steady at 36 percent, though down from 40 percent in August, in a weekly Forsa poll published Friday, while the SPD slipped 1 percentage point to 22 percent. The AfD rose 2 points to 11 percent, with the pro-market Free Democrats and the anti-capitalist Left party both at 9.5 percent. The Greens fell 1 point to 7 percent.
"I don't really expect any surprise in this election because the main picture has been very stable for a long time, with a clear lead of Merkel against Schulz," Peter Matuschek, a chief political analyst for Forsa, told Bloomberg Television.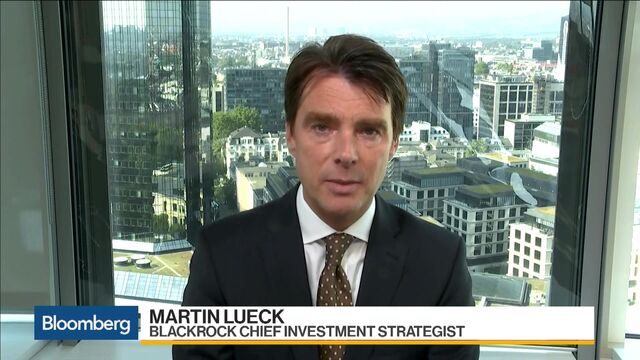 Merkel shared the stage in Munich with Horst Seehofer, the Bavarian premier and leader of the Christian Social Union who became Merkel's chief antagonist during the refugee crisis, which saw some 1.3 million migrants flow into Germany in 2015 and 2016. Even as Merkel rejects the CSU's call for a cap on migration, the two put aside their differences as they campaign together.
"Merkel Hates Germany" read a sign held by a supporter of the AfD, which says it wants to shut the border to asylum seekers and calls Germany's Muslim minority a "great danger to our state."
While Schulz has encountered far less disruption, he spent a chunk of his speech tearing into the AfD, pledging to take the populist party to task in Germany's lower house, or Bundestag. He placed the AfD alongside European right-wing groups such as France's Front National, Italy's Northern League and Hungarian Prime Minister Viktor Orban's Fidesz party.
"You are our enemies, and we will defend democracy in Germany," Schulz told the crowd, making reference to the SPD's history of opposing the rise of Nazism in Germany in the 1930s. "Social Democracy has always been the bulwark of democracy, and we're going to stand in your way."
Before it's here, it's on the Bloomberg Terminal.
LEARN MORE