Korea War Risk High Enough for Kapstream to Reduce its Exposure
By and
Position cut to 1.5% from 3.5% in August, Steve Goldman Says

Risk-averse nature of firm's funds means cut across the board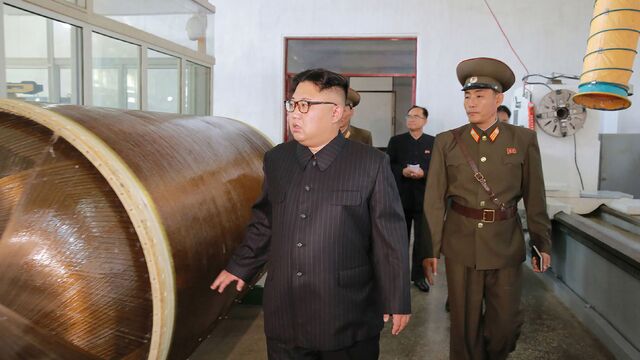 The odds of an armed conflict on the Korean peninsula may not be high, but they're high enough for Kapstream Capital Pty Ltd. to cut its exposure to South Korea by more than half.
Steve Goldman, managing director at the Sydney-based fixed income asset manager, said his funds' exposure to South Korean debt has been reduced to 1.5 percent of portfolios from about 3.5 percent within the past month. Kapstream, which managed $11.2 billion in assets as of August, is a unit of Janus Henderson Group Plc.
"We run more of a sleep-at-night fund, so we have to be a little more cautious given the levels of launches and now the rhetoric coming from the U.S. and Trump," Goldman said in an interview this week. "It actually did cause us to reduce some of our Korea position."
Kapstream started to trim its South Korea exposure last month, in the midst of an escalating war of words between U.S. President Donald Trump and North Korea's Kim Jong-Un. While initially rattled by Trump's promise of "fire and fury" if Pyongyang followed through with threats to fire missiles toward the U.S.-held territory of Guam, South Korean assets have been relatively resilient in the face of Kim's multiple missile launches and the nuclear test.
While the chances of an actual armed conflict are still "really really small," rising from 0.1 percent to something like 1 percent in recent times, that's "big enough" for risk-averse investors to curb their exposure, Goldman said.

While the reduction was across Kapstream's Korean positions, he still finds value in the debt of companies that are "systemically important issuers" to the government such as Korea National Oil Corp., telecommunications provider KT Corp. and Korea Electric Power Corp.
These are some of Goldman's other views:
In Asia, he likes hard currency debt but not local currency debt as it can be expensive and he's not familiar with local laws -- "we tend to buy only hard currency denominated debt under the laws that we understand, like U.S., Australia or U.K."
Goldman is keen on China's upcoming sovereign dollar-bond sale, but if it's priced too tight he would just get exposure to the country through SOEs and other semi-sovereign issuers.
"We are actually long credit default swaps in China versus Korea with a view that those spreads should narrow," he said.
If China's issue is successful it would encourage more sovereigns and other issuers in the region to follow suit, which he welcomes as it would reduce the reliance on bank loans and swell the pool of corporate bonds available to him.
Before it's here, it's on the Bloomberg Terminal.
LEARN MORE