How May Dropped Her 'No Deal Is Better Than Bad Deal' Brexit Phrase
By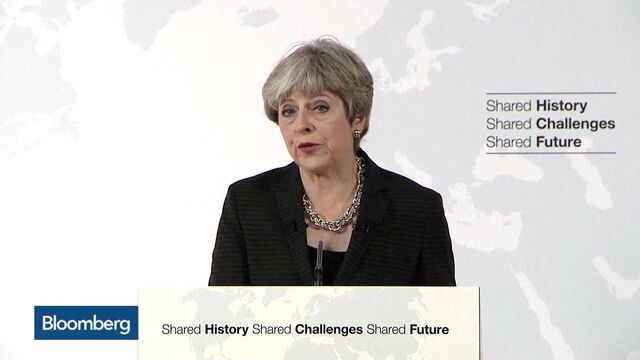 U.K. Prime Minister Theresa May's previous Brexit speech is remembered as the one where she said: "no deal for Britain is better than a bad deal for Britain."
In Florence, the catchphrase was notably absent.
Until, that is, she was goaded into repeating it in the question-and-answer session afterwards. A journalist asked: "Is no deal still better than a bad deal?" Yes, she replied.
But the exclusion of that phrase in her 5,535-word address (just under 1,000 words less than her January speech in Lancaster House) is significant, and makes sense in the context of seeking a transitional deal to protect the economy.
Her political nemesis pounced on it. George Osborne, the chancellor of the exchequer she fired on coming to power, has used his role as editor of the London tabloid Evening Standard to attack her. Here is the paper's take on her updated Brexit roadmap.
"So Britain has blinked. As this paper has predicted for four months, gone is the pretense that in our negotiations with the EU "no deal is better than a bad deal". Today, in Florence, the Prime Minister's whole speech is an admission that Britain has no option but to deal."
Before it's here, it's on the Bloomberg Terminal.
LEARN MORE