Elvis Music Owner Carlin Is Said in Talks for $250 Million Sale
By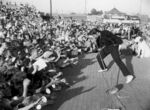 Carlin America Inc., owner of rights to Elvis Presley, AC/DC and Billie Holiday music, is close to an agreement to sell to Round Hill Music, the owner of early Beatles hits "She Loves You" and "I Saw Her Standing There," according to three people with knowledge of the matter.
Carlin's catalog of more than 100,000 songs could fetch $250 million, said the people, who asked not to be identified because the deal is private. Freddy Bienstock, who worked early on with Presley, founded New York-based Carlin in the 1960s and added to its collection before his death in 2008. Terms, including the final price, were still being negotiated.
The value of song libraries has jumped in recent years, buoyed by major labels making acquisitions and private investors buying, too, as the industry recovers from two decades of decline. Thanks to subscription streaming services like Spotify, U.S. spending on music is poised to increase for a third year in a row, according to a report from the Recording Industry Association of America.
Founded by Josh Gruss, New York-based Round Hill has made more than 20 investments in music catalogs since 2011, including Beatles compositions and more current stars like Katy Perry, according to its website. The company raised $201.6 million with Round Hill Royalty Music Fund 1 in July 2014. Billboard said earlier this year the company was seeking money for a second fund, and had gross profit approaching $20 million.
Round Hill controls both masters -- specific recordings of a rock group like The Offspring -- as well as publishing rights, which entitle the company to collect royalties on all recordings of a particular song. The company ranked 10th in market share among publishers in the first quarter of 2017, according to Billboard, controlling 1.29 percent of the top 100 radio songs.
In September, billionaire Len Blavatnik's Warner Music Group acquired Dutch electronic music label Spinnin Records for about $100 million, according to trade reports at the time, and BMG Rights Management paid a similar price in January for Nashville label Broken Bow Records. Ole, a Toronto-based publisher and royalty administrator, went on the block in March, Billboard reported at the time.
Before it's here, it's on the Bloomberg Terminal.
LEARN MORE