Comey's Speech at Howard University Is Interrupted by Protests
By
Fired FBI Director delivers a message over students' chanting

He steers clear of discussing Trump and the Russia probe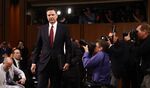 Former FBI Director James Comey faced a rough reception from Howard University students who chanted protests from the audience as he gave a speech about the importance of giving others a fair hearing in a time of turmoil.
"There's a lot of pain and hurt in this country and this world," Comey, who was fired by President Donald Trump in May, told students Friday at the historically black university in Washington, where he's taken a position as a lecturer. "Our country is going through one of our periods where we're trying to figure out who are we really and what do we stand for."
That was the closest Comey came in the 12-minute speech to what might have been even a cryptic reference to his dismissal or to the continuing investigation of Russian interference in the 2016 presidential campaign. Comey, 56, has become a central figure in the federal criminal probe into whether Trump or any of his associates colluded with Russia.
The speech to mark the start of the university's school year was delayed by more than 10 minutes as more than a dozen people in the audience erupted into chants such as "no justice, no peace" and "go home Comey, you're not our homey." The shouting continued as Comey spoke.
Comey, who's donating his lecture fees to fund scholarships, touted Howard's role in U.S. history and described it as an "island" where students can challenge themselves and their beliefs. He said he looks forward to adult conversations about what's right and true. The reality "in most of the real world -- and in about four rows of this auditorium -- is that people don't listen at all" to others' views, he said.
Protests Continued
"Howard University has always been different, which is why I wanted to be a part of it," he said.
Outside the auditorium, the protests continued with a few people holding up "Black Lives Matter" signs. A Twitter account, #HUResist, chastised university officials for hiring Comey, saying that as head of the Federal Bureau of Investigation he'd sought to shut down Black Lives Matter protests.
Special Counsel Robert Mueller is investigating whether Trump sought to obstruct justice by firing Comey on May 9. Mueller, also a former FBI director, was appointed to lead the investigation into Russian meddling on May 17 after Trump fired Comey and said that "this Russia thing," which he dismissed as a "made-up story," was on his mind at the time.
Comey is also expected to testify in coming weeks before lawmakers investigating possible collusion with Russia, his second appearance on Capitol Hill since being fired.
— With assistance by Chris Strohm
Before it's here, it's on the Bloomberg Terminal.
LEARN MORE