Can India's Finance Chief Save the Bull Market?
By
Rising markets, continued inflows contrast with slowing growth

This money stands to help offset the risk of widening deficits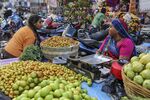 Finance Minister Arun Jaitley faces conflicting signs as he tries to revive India's economy.
On the one hand, economic growth has been slowing for five quarters, weighed down in part by demonetization and a new nationwide sales tax. On the other, some analysts and investors say these very steps -- and others such as inflation targeting, a new bankruptcy framework and encouraging foreign investment -- have laid the groundwork for much faster expansion once the $2 trillion economy adjusts. In trying to legitimize and tax India's vast informal economy, Jaitley has the unenviable task of ensuring the hiccups aren't a sign that something deeper ails the nation.
"Despite the gradual pace of recovery on the ground," the ongoing reform push by policy makers "will help improve productivity dynamics and lay the foundation for sustainable growth," said Tanvee Gupta Jain, a Mumbai-based economist at UBS AG.
The government is considering more measures to boost the economy and will announce the steps after consulting Prime Minister Narendra Modi, Jaitley told reporters on Wednesday. The finance minister is scheduled to speak at the Bloomberg India Economic Forum on Friday.
'Bumps on the Road'
Economists have been lowering estimates for growth in gross domestic product since the government's shock cash ban last year. The move to void 86 percent of currency in circulation hurt consumption and investment in what was once the world's fastest-growing major economy, and the slowdown threatens to worsen Asia's widest budget deficit. Further disruption came with the July 1 roll out of the sales tax, which roiled supply chains across the country.

Consumer goods makers including Emami Ltd. and Godrej Consumer Products Ltd. have said they expect sales to rebound after the initial disruption of the new tax, with customer demand robust. Private investment, however, remains hamstrung by a corporate debt overhang and insufficient capacity utilization. With visibility low, the median estimate for economic expansion had fallen nearly a percentage point for the current quarter from pre-demonetization levels, while investment banks including Deutsche Bank AG and Morgan Stanley have pared full-year forecasts and predict a bounce back in the 12 months through March 2019.
"Low oil prices, structural reforms, and robust demographic growth should have made India the brightest story of emerging Asia," said Trinh D. Nguyen, senior economist at Natixis SA in Hong Kong. "But bumps on the road are derailing India's path to success, at least in the short-term," she said, adding a "strong rebound" should follow.
To read Bloomberg Intelligence's view on India's rising growth potential, click here
Markets are less circumspect as even a slowing Indian economy is still growing faster than most major peers. Domestic money has fueled a relentless rise in equities with the benchmark S&P BSE Sensex this week capping its longest winning streak since June 2015 and the broader NSE Nifty 50 gauge hitting a record high. Foreign funds have bought almost all the rupee bonds they're allowed to buy as Indian debt offers some of the highest yields in Asia. The rupee has gained 4.5 percent this year, though its status as one of the most-loved Asian currencies is now being tested by the faltering economy.

The inflows are helping bridge a current account deficit that ballooned last quarter to the widest in four years. Continuing foreign direct investment has also boosted the Reserve Bank of India's foreign-exchange reserves to a record $400 billion this month. The stockpile strengthens buffers against any external volatility.
Deutsche Bank suggests it could also be used to spur growth as U.S. tightening closes room for monetary stimulus. The "stark" divergence between slowing growth and soaring stock markets should push the government to "consider non-traditional ways of freeing up resources for supporting growth," said economist Kaushik Das. He estimates that $15 billion of reserves used to build roads, railways or power plants would dent total holdings by only 3.5 percent while adding 0.6 percent to GDP.

"We argue that India could be at a transition point -- and that a stronger India, what we call India 3.0, is in the making," said Pranjul Bhandari and James Pomeroy, economists at HSBC Plc. "But there is still much to do."
They urged policy makers to move beyond one-off reforms and announce a series of steps to make it easier to do business, restore the health of Indian banks and invigorate health care and education. "There is a lot that needs to be fixed to ensure this is not merely another false start."
Quotes from this Article
Before it's here, it's on the Bloomberg Terminal.
LEARN MORE