A Bank Rally Has Legs as Bulls Enjoy Upside-Down Month in Stocks
By
September has seen leadership reversing to small-caps, value

Rotation helps bull market stay alive with new record highs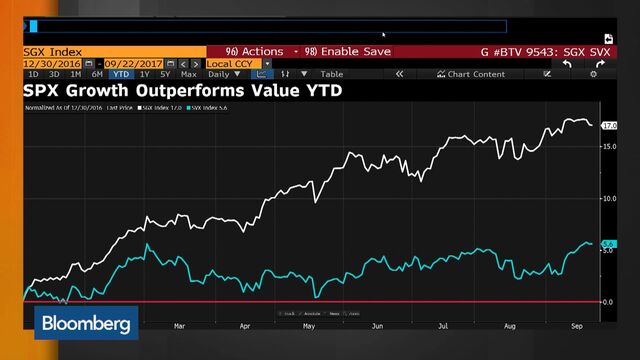 There was supposed to be volatility, but none has come. Instead, losing trades have sprung to life in September, among them bank shares, enjoying their strongest stretch since the first days of the Trump era.
The KBW Bank Index gained 3.4 percent this week, helping revive leadership in a group that before this month was heading for its worst year since 2013 relative to the rest of market. Among other violent reversals were small caps gaining traction and value shares like energy companies gaining ground on growth.

"As 2017 has shown us time and again, in the healthiest uptrends, capital has a funny way of creeping back toward areas that have lagged just when it is most needed," said Frank Cappelleri, senior equity trader at Instinet LLC in New York. "Mega large-cap growth dominance has been replaced by timely rotation as the most important theme."
While no single catalyst explains it, rising Treasury yields and the stabilizing dollar have helped. It's let the market make new highs, defying forecasts based on seasonal patterns and Apple Inc.'s biggest drop in 17 months.
In some narratives, the rejuvenation in financial and small-cap socks signals a return of confidence in the U.S. economy after stalled policy initiatives in Washington and geopolitical tensions prompted investors to abandon the Trump trade. So says John Carey, a fund manager with Amundi Pioneer Investment Management in Boston.
"I was worried earlier this year when all of the buying seemed to be in a very small list of big growth names," Carey said. "I found it encouraging investors are looking elsewhere. If the base of investor interest can broaden and include more stocks, that'd give the market more resilience."
In what is historically the worst month for stocks, September has seen the S&P 500 Index rise 1.2 percent, poised for its sixth straight monthly gain. Both KBW's bank measure and the Russell 2000 Index of smaller companies have shown better returns, climbing at least 3 percent. That's a turnaround from the first eight months of 2017, when they trailed the broad market benchmark by more than 7 percentage points.

Gains in banks followed a 4 percent rally last week, the first time since Nov. 18 when the group posted such large back-to-back advances. The rotation to banks is a relief for Wall Street strategists, who have consistently said the industry is their favorite. It's also welcome news for bulls who have added $5.3 billion of fresh money to financial-focused exchange-traded funds this year, an amount that trails only technology.
Others are less thrilled. Before this week, pessimism over Russell 2000 had grown to levels not seen since the global financial crisis, with the amount of short positions held by large speculators in the index's futures reaching the highest since September 2008.
The economic message from the stock market may be turning positive, as evidenced by value's performance over growth. Investors are returning to companies trading at lower multiples relative to earnings or book value, a trade that is in some quarters thought to play out best when the economy accelerates and cures whatever problems are making cheap stocks cheap.
Value shares in the Russell 1000 Index have beaten the growth cohort by 1.5 percentage points in September, marking a reversal from the previous eight months, where value trailed by almost 15 percentage points.
Weighing on growth's performance are tech giants such as Apple, who have yet to reclaim their early-year form. The iPhone maker and four other tech firms accounted for about one third of the S&P 500's advance from January to August, sparking concern that a drawdown in the tech giants would sound the death knell of the bull market.
Apple has lost 7.4 percent this month, poised for its worst drop since April 2016. The FANG block -- Facebook Inc., Amazon.com Inc. Netflix Inc. and Google parent Alphabet Inc. -- is down 2.6 percent from its July peak. Yet the S&P 500 just notched three all-time highs over the week just ended.
Before it's here, it's on the Bloomberg Terminal.
LEARN MORE