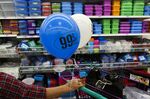 The only thing cheaper than the items sold at 99 Cents Only Stores is the retailer's own debt. But you get what you pay for.
The California-centric discount chain is scrambling to restructure junk-rated borrowings tied to its 2012 leveraged buyout orchestrated by Ares Management and Canada Pension Plan Investment Board. Coming the same week that another retailer, Toys "R" Us, filed for bankruptcy, 99 Cents Only sadly echoes an increasingly familiar tale of financiers using overaggressive projections to load up a business with more debt than it can withstand.

To understand how 99 Cents Only got into trouble, let me briefly take you back to 2011. The U.S. economic recovery was hitting speed bumps and big investors such as Bill Ackman piled into discount retailers, which are among industries that tend to do better when household budgets tighten. Then came deal fever. 1
The chain drew interest from Leonard Green & Partners LP -- but in a sign of the times, investors scoffed at its proposal as too cheap and sent the retailer's shares soaring past that price as traders bet on a higher offer. The Ares bidding group jumped in ready to pay a whopping 15 percent more than Leonard Green, and that was that. Their transaction valued 99 Cents Only at almost 9 times Ebitda, according to data compiled by Bloomberg, and drove its debt to more than 6 times Ebitda -- creating a strenuous situation, as only hindsight would reveal.
The retailer has more than $800 million of debt due in 2019, which it's trying to push off several years. Interest expense was $70 million for the latest reported 12-month period, on an operating loss of $34 million. Its bonds last traded for 84.25 cents in mid August -- and that's an improvement:

Further evidence of the headaches is that since the buyout 99 Cents Only has had five CFOs and five CEOs, both permanent and interim.
The company has hired Guggenheim Partners to help it manage this mountain of debt, Bloomberg News reported Wednesday. Good ole Guggenheim was also there to advise 99 Cents Only's Gold/Schiffer family on the 2012 buyout. With the bankers back to pick up more fees, may their advice be better this time. 
I don't mean to pick on one firm, though. This is a systemic problem, and not enough is being done to call out the private equity firms, banks and others for their roles in the carnage of the retail space -- and potentially other industries next. Yes, Amazon.com Inc. and the natural shift to online shopping are major factors. But debt-laden, often irresponsible deals brought about the pain faster, and those most affected will be retail workers, who by the end of the day may have few other places to turn for jobs. 
The good news for 99 Cents Only, the employees and its creditors is that the chain's same-store sales have increased nicely this year, and CEO Geoffrey Covert rightly ditched a bad store strategy that temporarily resulted in higher inventory costs, shoplifting and merchandise damage. Covert is well-respected, having come from Kroger Co., and his turnaround efforts led to Moody's Investors Service raising its outlook to stable from negative.

As a dollar store, 99 Cents Only also isn't that prone to lose shoppers to Amazon Prime. The bad news is that between the state of California's rising minimum wage and more grocery chains moving into 99 Cents Only's markets there, it still will be difficult to wring out a profit.
If it weren't for all the debt, though, 99 Cents Only might be doing just fine. 
Credit where it's due: This deal fever was partly inspired by Nelson Peltz, one of the most famous activist hedge fund managers, who tried to coax suitors into buying Family Dollar Stores Inc., one of 99 Cents Only's closest peers. Family Dollar later sold to Dollar Tree Inc.
Before it's here, it's on the Bloomberg Terminal.
LEARN MORE