Young Labour Leader Electrifies New Zealand Politics in Knife-Edge Election
By
'An enormous gust of fresh air into a stuffy campaign'

Polls show opposition leader has a chance of upset victory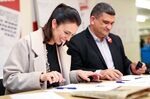 Win or lose, Jacinda Ardern has electrified New Zealand politics.
In the space of just seven weeks, she has led her opposition Labour Party out of the wilderness and given it the chance of a stunning upset in Saturday's election. What had looked like a cakewalk for the ruling National Party has become a riveting contest of ideas and left the ballot too close to call.

"Ardern's leadership breathed an enormous gust of fresh air into a stuffy campaign," said Kate McMillan, a political scientist at Victoria University in Wellington. "People on the left dared to hope there might be a change of government. People on the right were shaken out of their complacency."
Since taking Labour's reins on Aug. 1, the 37-year-old has unleashed a wave of excitement with her vision for a more equitable society, drawing comparisons with the generational change in leadership seen in countries like Canada and France. Even though New Zealand's economy is growing strongly, she has argued that too many people have been left behind during nine years of conservative government and pledged to tackle social issues such as child poverty and housing affordability.
Read More: How Jacinda-Mania Shook Up New Zealand's Election
But in rejuvenating the center-left, Ardern has brought out the best in her opponent, Prime Minister Bill English, whose late surge in opinion polls has put the election on a knife-edge. The 55-year-old's promise of tax cuts and record of economic leadership have gained traction as the campaign draws to a close.
National's support rose to 45 percent from 42 percent in an average of recent polls compiled for Radio New Zealand, while Labour fell to 37 percent from 42 percent. 
Because New Zealand's German-style electoral system lends itself to coalitions, Labour can get fewer votes than National and still form a government. It could seek the support of smaller partners such as the Green Party, the nationalist New Zealand First Party, or even the tiny Maori Party that is currently in an alliance with National.

That Labour is even in with a chance is solely down to Ardern, who has almost doubled the party's support from 24 percent since being thrust into the leadership. Similar to the rise of Donald Trump in the U.S. or Jeremy Corbyn in the U.K., Ardern provided a lightning rod for dissatisfaction with the status quo, said political analyst Bryce Edwards.
'Mood for Change'
"She electrified and mobilized that latent, underlying discontent," Edwards said. "It might not be enough to change the government, but certainly there's a mood for change that's greater than we've seen for many years."
Advance voting has surged, with 985,000 received two days before the election compared with 557,000 at the same time in the 2014 campaign, according to the Electoral Commission.
Ardern's popularity suggests an appetite for generational change, as was the case with Emmanuel Macron in France and Justin Trudeau in Canada. She could become the youngest head of government in the OECD and New Zealand's youngest leader since 1856.
'Competent and Smart'

Ardern has directly targeted the youth vote with a call to arms over climate change, saying it is "my generation's nuclear-free moment" -- a reference to New Zealand's pioneering anti-nuclear policy in the 1980s that engendered a sense of pride in the South Pacific nation of 4.7 million people.
"She is competent and smart, and she's really in touch with the next generation of voter," said Jennifer Curtin, associate professor of politics at Auckland University. "It's very much like Justin Trudeau."
But if Ardern has put in a strong performance on the campaign trail, English has too. The former finance minister, who has been criticized for being boring, has lifted his game and surprised many with his passion.
Presenting National as a safe pair of hands on the economy, English has hammered Ardern for a lack of policy detail and forced her to delay a plan to introduce a capital gains tax aimed at damping speculation in the residential property market.
English has a lot at stake. He only became prime minister late last year after the unexpected departure of John Key. The last time he was leader of the National Party, he led it to its worst-ever defeat at the 2002 election.
'I Got Up Again'
When asked during a televised debate how he's changed since that experience, English drew plaudits for his response: "I got up again, and I saw how this country built from the bottom of a recession to be one of the best-performing economies in the developed world."
Even if English ultimately prevails, there is little doubt that Ardern's rise has changed New Zealand's political landscape. 
She has forced the government to pledge to do more for the most disadvantaged, including English's promise to lift 100,000 children out of poverty through increased assistance to the poorest families.
"Whether Labour gets to form a government or not, Ardern's strong performance has put these issues firmly on the table and, at the very least, made it more difficult for any government to ignore them," said McMillan. "Things look very different today than they did two months ago."
Before it's here, it's on the Bloomberg Terminal.
LEARN MORE