politics
Trump Boosts North Korea Sanctions, Adding Economic Pressure
By
President says China acting to cut financial transactions

Kim calls Trump 'deranged,' threatens highest countermeasure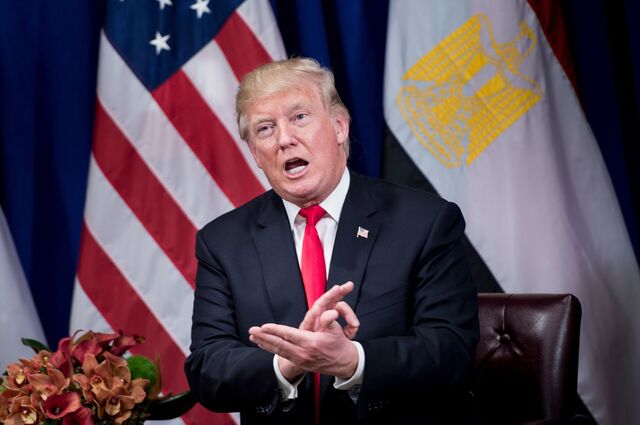 U.S. President Donald Trump ordered new sanctions on individuals, companies and banks doing business with North Korea as he sought to further isolate the regime and increase economic pressure for it to curb its weapons programs.
Trump added that China is ordering banks to stop dealing with Kim Jong Un's regime, but it was unclear if he was referring to a new development or the People's Bank of China's Sept. 11 statement it had instructed banks and other financial entities to suspend accounts subject to sanctions under a United Nations Security Council resolution. China is North Korea's largest trading partner and its main ally.

It's also unclear what effect the heightened U.S. sanctions will have on the isolated state. It shows that Trump, who this week threatened to "totally destroy" North Korea if it provokes the U.S. or allies, is continuing to use economic and diplomatic levers in his bid to curb Pyongyang's nuclear and missile programs.
Kim responded to Trump's remarks at the UN General Assembly in a statement on state media, calling the president "mentally deranged" and threatening to take the "highest level of hard-line countermeasure in history." South Korea's Yonhap News said this was the first time Kim has made such a direct statement since taking power in 2011.
Such highest level countermeasures could include the detonation of a hydrogen bomb in the Pacific, Yonhap added, citing Foreign Minister Ri Yong Ho, who is in New York this week for the UN meetings.
What U.S.-North Korea Hostilities Might Look Like: QuickTake Q&A
U.S. Ambassador to the UN Nikki Haley said the expanded sanctions won't necessarily "change Kim's attitude" but "will slow down" his weapons programs. Trump said the measures are intended to disrupt critical North Korean shipping and trade networks by targeting any entity that does business with the nation.
"Foreign banks will face a clear choice: Do business with the United States or facilitate trade with the lawless regime in North Korea," Trump said. "The regime can no longer count on others to facilitate its trade and banking activities."
"And I'm very proud to tell you that, as you may have just heard moments ago, China, their central bank has told their other banks -- that's a massive banking system -- to immediately stop doing business with North Korea," he added. "This just happened. It was just reported."
Trump praised Chinese president Xi Jinping for a "very bold move" in acting to cut off financial ties with North Korea and said it was "somewhat unexpected."
Chinese banks are especially vulnerable to sanctions because they had $144 billion of assets in the U.S. at the end of December, according to data from the U.S. Federal Reserve. Most of those assets are held by Bank of China and the Industrial and Commercial Bank of China.
China's oil companies also may be exposed. China is the biggest oil supplier to North Korea, providing almost all the estimated 15,000 barrels a day of crude and products the country imports, according to the U.S. Department of Energy.
The European Union is considering new sanctions that could include a ban on EU companies exporting oil to North Korea, Italian Foreign Minister Angelino Alfano said at a briefing in New York.
Trump signed an executive order authorizing the U.S. Treasury to effectively cut off from the U.S. financial system any foreign individual or entity that does business with North Korea, including foreign banks. Vessels and aircraft that visit North Korea or engage in a ship-to-ship transfers with another ship that has visited North Korea would be banned from the U.S. for 180 days.
Treasury Secretary Steven Mnuchin said in a briefing he informed the PBOC of the new sanctions Thursday morning in advance of the announcement, and said he had a "productive" discussion with officials at the bank.
The UN Security Council this month approved another round of sanctions that seek to cut North Korea's imports of refined petroleum products to 2 million barrels a year, ban textile exports and strengthen inspections of ships that are believed to be carrying cargo in breach of sanctions. But to avert a threatened veto by China and Russia, the action stopped short of a U.S. demand for a total oil embargo and a freeze on Kim's assets.
North Korea has been the most urgent issue before the UN following its Sept. 3 test of what it claimed was a hydrogen bomb and its launching of two missiles over Japan in the past three weeks.
— With assistance by Nick Wadhams, Toluse Olorunnipa, and John Follain
(
Updates with Kim remarks in fourth paragraph.
)
Before it's here, it's on the Bloomberg Terminal.
LEARN MORE