The Russian Banking Analyst Who Predicted Deluge of Bailouts
By and
Alfa Capital's Gavrilov told clients four banks were at risk

Central bank bailed out B&N weeks after Otkritie's rescue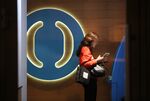 Turns out Sergei Gavrilov was right about Russia's banking troubles after all.
But the Moscow-based investment adviser, who warned his clients last month that bailouts were coming, can't take a bow. He's not allowed to speak to the press, says his employer, Alfa Capital.
On Aug. 10, Gavrilov said in a private note to clients leaked to a local newspaper that Alfa Capital had information that four closely held banks were on the cusp of central bank interventions. Since then, bailouts of two of the lenders are underway, with the regulator nationalizing B&N Bank PJSC on Thursday.
Alfa Capital, which has the same owner as private lender Alfa-Bank JSC, swiftly retracted the note after coming under the scrutiny of The Bank of Russia. But with Gavrilov's predictions proving prescient for B&N and Bank Otkritie FC, investors are dumping Eurobonds of the other two banks he mentioned, Promsvyazbank PJSC and Credit Bank of Moscow PJSC.
"There will be few private banks left," said Alexander Lebedev, the Russian tycoon who owns the National Reserve Bank in Moscow, as well as London's Evening Standard and The Independent newspapers. The former parliament member predicts that once the dust settles, the state will own 80 percent of the banking industry, up from 60 percent now.
Credit Bank of Moscow Chief Executive Officer Vladimir Chubar said "we're not worried" when asked by phone about the fallout from the B&N rescue, while Promsvyazbank said in a statement that its financial position is stable and diversified.
Industry Consolidation
Russia has spent tens of billions of dollars on bailouts and deposit protection to contain a crisis that was, in part, precipitated by its own central bank. The Bank of Russia gave lenders like Otkritie, B&N and Promsvyazbank access to cheap loans to take over smaller and struggling rivals in the wake of international sanctions and slumping oil prices since 2014.
That strategy created opportunities for a new generation of banks not directly tied to the Kremlin, particularly as U.S. and European Union penalties targeted state banks like Sberbank PJSC, which holds about half of Russians' savings.

The problem is a lot of those assets were in worse condition than they bargained for, leaving Otkritie, for one, with a capital deficit that could be as large as 400 billion rubles ($6.9 billion). S&P Global Ratings estimates troubled assets represent more than 20 percent of industry loans.
B&N needs additional provisions of between 250 billion and 350 billion rubles, central bank Deputy Governor Vasily Pozdyshev told reporters Thursday. There is no risk of further contagion to the banking industry, he said.
"All banks are linked to one another, and not just those that were mentioned in the famous letter," Pozdyshev said, adding the central bank has moved to reduce such connections. "As a result of this work, a domino effect -- as I understand it -- is now absolutely excluded."
Promsvyazbank's $250 million of bonds due in October 2019 fell to a record on Thursday, pushing the yield up 36 basis points to 6.65 percent. The $600 million bond Credit Bank of Moscow sold in March fell for a third day, lifting the yield 5 basis points to 9 percent at 2:24 p.m. in Moscow.
'Not Positive'
"I am still not positive on Credit Bank of Moscow and Promsvyazbank," said Yannick Naud, head of fixed income at Banque Audi in Geneva, which reduced its holdings of Russian banking bonds in the summer and doesn't own debt of the two lenders. "We should see further concentration in the Russian banking market which benefit the largest, and the best- connected, players."
Investors aren't too worried this will erupt into a full-blown banking crisis, though. While Otkritie suffered from a run on deposits in the summer, the central bank bailout eased concerns among customers that their savings were at risk. Otkritie is one of 11 lenders the regulator deems too big too fail, including Credit Bank of Moscow as of last week. Russia, meanwhile, can afford the bailouts -- its reserves have increased by $51 billion this year to $427 billion.
The Bank of Russia's bailouts are "likely to stop the spread of the problem," said Anatoly Aksakov, chairman of the financial markets committee of Russia's lower house of parliament, known as the Duma.
In his note, Gavrilov said a clean up at the four lenders may result in their subordinated bonds losing between 40 percent and 60 percent of their value.
"While Gavrilov might have padded his list a bit by including Promsvyazbank and Credit Bank of Moscow, events have shown that he was pretty much right," said Tom Adshead, the chief operating officer of the Moscow-based consultancy Macro Advisory.
— With assistance by Ilya Arkhipov, and Ksenia Galouchko
Before it's here, it's on the Bloomberg Terminal.
LEARN MORE