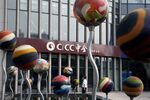 China International Capital Corp. is yesterday's man no longer. By selling a chunk of itself to Tencent Holdings Ltd., the brokerage just bought a stake in the future.
CICC soared as much 19 percent to a record in Hong Kong trading Thursday after saying that Tencent agreed to invest $372 million in the company, the internet behemoth's first major foray into conventional finance.
While the share reaction may be more about hope and expectation than solid reality at this stage, the enthusiasm isn't hard to understand. CICC is an underdeveloped franchise, a company with a storied history that has languished over the years. The upside potential is clear.
China's first Sino-foreign investment bank when it was set up in 1995, CICC ranked only eighth by revenue among Hong Kong-traded Chinese brokerages in the first half:

Last year, it stood ninth in the league table of Hong Kong IPO arrangers, lagging behind not only overseas heavyweights such as Morgan Stanley (its former partner) and Goldman Sachs Group Inc., but mainland rivals such as China Construction Bank Corp. and China Merchants Bank Co. 
Tencent has the heft -- and the technology -- to make a significant difference to this lackluster performance. More telling than the 5 percent stake the technology giant is taking in CICC is the strategic cooperation agreement the companies have reached. Tencent's financial technology and user base can take CICC's wealth management business to another level.
Shenzhen-based Tencent may make most of its revenue from gaming, but it's engaged in a competitive land grab with the likes of Jack Ma's Ant Financial and Baidu Inc. for the virgin territory of online money management and mobile payments. It owns a stake in WeBank, which distributes money-market funds via WeChat -- the ubiquitous mobile app that has more than 800 million users.
Tencent's expertise in big data processing and artificial intelligence will help CICC enlarge its customer base and provide more personalized wealth management products to customers, as the brokerage said in its stock exchange filing.
The appeal for CICC, then, is clear. Less obvious is Tencent's choice of partner. The internet company could have had its pick of a clutch of more aggressive and successful Chinese brokerages. CICC's political connections, which no doubt remain impeccable despite its uninspiring business performance, may provide one answer.
There are also signs CICC is starting to play catch-up. It's running third in the Hong Kong IPO rankings this year, thanks to the $1.2 billion June IPO of Guangzhou Rural Commercial Bank Co. In the first half, the brokerage managed to double its operating income, a result that was by far the best in class.

A partnership with an established brokerage also brings licenses, which may be a key consideration for a technology upstart seeking to carve out a bigger piece of the traditional financial services industry. 
Tencent isn't the only company pursuing such arrangements. A case in point: E-commerce giant JD.com Inc. is reportedly in talks to buy a 24 percent stake worth about $1.5 billion in First Capital Securities Co. The brokerage was JPMorgan Chase $ Co.'s former China securities joint venture partner.
Gadfly has used the term "national service" several times to describe the phenomenon of China's thriving private companies coming to the aid of ailing state-owned firms. This isn't one of those deals. 
There's money to be made by both sides here.
--With assistance from Nisha Gopalan.
Before it's here, it's on the Bloomberg Terminal.
LEARN MORE