markets
Tata-Mistry Feud Refuses to Die as Mismanagement Case Revived
By
Indian tribunal gives Mistry special waiver to pursue case

Tata Sons says allegations are without basis and incorrect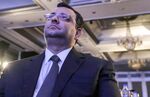 Almost a year after a boardroom coup forced Cyrus Mistry's ouster as chairman of India's largest conglomerate, a court has revived his case alleging holding company Tata Sons Ltd. mismanaged group firms.
The National Company Law Appellate Tribunal's panel, headed by chairperson Justice S.J. Mukhopadhaya, on Thursday waived a rule that stipulates investors must own at least 10 percent of a company to file a case claiming oppression of minority shareholders, giving a reprieve to the former Tata Sons chairman. Mistry's family owns about 18 percent of closely-held Tata Sons, but less than 3 percent if preferential shares are included.
The tribunal's order revives last year's corporate showdown between the Tata Group and Mistry's family that started with his ouster in October 2016 and subsequent exit from the boards of units including Tata Motors Ltd. and Tata Steel Ltd. In moving against Mistry, the Tata Sons board had cited a trust deficit and departures from the group's culture and ethos. For his part, Mistry had said that the group may face about 1.18 trillion rupees ($18 billion) in writedowns in coming years from five unprofitable units he inherited.
To read more on how the Tata-Mistry fight got murkier, click here
Current Tata Sons Chairman Natarajan Chandrasekaran, who took over in February, has steered away from Mistry's efforts to pare back the empire Ratan Tata built through more than a decade of acquisitions.
The appellate tribunal's order allows Mistry's firms to continue with the case alleging oppression of minority shareholders by Ratan Tata and mismanagement of group companies, which was rejected by a lower tribunal in April.
Special Waiver
The shareholding pattern of Tata Sons makes an "exceptional circumstance that merits waiver," the appellate body said. Minority shareholders of Tata Sons would never be eligible to file a case against the holding company if a special waiver is not given, it said.
The ruling is a "welcome vindication of what we have stood for and the values for which we are pursuing the petition," Mistry's office said in a statement. "We will continue to pursue highest standards of corporate governance and demand complete transparency of the group."
The appellate body directed a lower tribunal, the National Company Law Tribunal, to decide the case in three months. While allowing the exception, the tribunal held that the plea of Mistry's firms would not have been maintainable without the special waiver.
Tata Sons has taken note of the order and will examine it, the company said in a statement. "We strongly believe that the allegations made by the petitioners are without basis and incorrect," it said. "Tata Sons will continue to defend its position at all appropriate legal forums."
Mistry family, one of India's richest, is also gearing up for another battle against the salt-to-cars conglomerate as Tata Sons plans to change its registration to a private limited entity from a public one. The move would restrict the Mistry family's ability to sell its stake to external investors.
To read more on Tata Sons' plans to change its legal status, click here
The proposal to alter Tata Sons' status amounts to "oppression of the minority interests," the Mistry family's investment fund wrote in a Sept. 14 letter to the holding company.
— With assistance by Bhuma Shrivastava
Before it's here, it's on the Bloomberg Terminal.
LEARN MORE