The EU Is So Over Its 'Bridget Jones' Brexit Blues
By and
European Union's antitrust chief sends defiant message to U.K.

Margrethe Vestager comments ahead of Theresa May key speech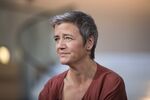 The European Union is no longer a lovelorn Bridget Jones, sobbing over being dumped by bad boy Britain, according to Margrethe Vestager, the bloc's antitrust chief.
"We've recovered from this Bridget Jones situation -- sitting on the couch eating ice cream out of the box -- and got on with our lives," Vestager told Bloomberg News in New York, in a defiant message to U.K. Prime Minister Theresa May, who is set to give a key speech on her Brexit strategy on Friday.
As the clock ticks down to March 2019, when the U.K. is scheduled to leave the EU, its leaders refuse to discuss a future trade deal with Britain until May's government agrees to pay for past commitments to the joint budget. "If you sign up for this, you should also pay, no more no less," Vestager said.
Six months after the EU's second-biggest economy triggered the process of leaving the bloc, negotiations remain stalled. "There is some disappointment in the fact that there has not been sufficient progress on the three main" separation issues -- the rights of EU citizens in the U.K., arrangements for the Irish border and the exit bill, Vestager said.
EU leaders are waiting for May to offer concessions on the withdrawal issues in her speech in Florence on Friday, thus paving the way for a breakthrough in negotiations that resume next week in Brussels.
— With assistance by Nikos Chrysoloras
Before it's here, it's on the Bloomberg Terminal.
LEARN MORE