Siemens in Talks With Alstom Alongside Bombardier on Rail
By and
German firm adds second option through recent Alstom talks

Siemens, Bombardier have held discussions on JVs for months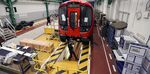 Siemens AG is negotiating with Alstom SA as well as Bombardier Inc. about potential rail combinations, giving the German engineering company two options to pursue consolidation in the industry, according to people familiar with the matter.
While Siemens has been negotiating for months with Montreal-based Bombardier about creating two rail joint ventures, it has more recently also been speaking to French rival Alstom about various tie-ups, said the people, who asked not be named because the discussions aren't public.
One option being considered is Siemens injecting its rail business into Alstom in exchange for a large stake in the bigger French entity, two of the people said. They could also look at joint ventures, another person said.
It remains unclear whether Siemens will opt for a deal with the Canadian company or the French, or whether talks will lead to any agreement because any consolidation move remains complex and could face significant antitrust hurdles, the people said. A representative for Siemens declined to comment and Alstom couldn't be immediately reached.
Alstom shares jumped as much as 4.3 percent and were trading 3.6 percent higher at 31.61 euros at 3:54 p.m. in Paris, giving a market value of 6.9 billion euros ($8.2 billion). Siemens shares rose 1.3 percent to 117.50 euros in Frankfurt.
Chinese Competition
The talks for a tie up come as all three companies are facing increased competition from industry leader CRRC Corp. of China, formed from a 2015 merger of the country's two main regional train makers. Siemens and Bombardier's rail operations have significant overlap in Europe, especially Germany, raising the likelihood of asset sales to allay regulatory concerns, and possible job cuts.
A deal with Alstom would be in keeping with Siemens Chief Executive Officer Joe Kaeser's moves toward a more holding-like structure for the German conglomerate, giving autonomy to units while still being centrally managed. Siemens is now laying plans to carve out the health-care division called Healthineers after combining its renewables business with that of a Spanish rival to form majority-owned Siemens Gamesa Renewable Energy SA.
Siemens and Bombardier were making progress on creating one joint venture for their rolling stock operations, which would be controlled by Bombardier, and another for signaling, in which Siemens would have a majority, people familiar with the talks said in June, when a deal had been expected within months.
In the event of a deal with the Canadian company, Alstom was seen as either being left out or in a position to purchase assets they might have to shed to get approval from antitrust authorities. The French maker of locomotives, light transit trains and signaling systems became a transport-focused company after selling most of its energy assets to General Electric Co. in 2015. At the time Siemens had made a counter offer for Alstom that included combining its train operations.
Talks between Bombardier and Siemens, which started earlier this year, were first reported by Bloomberg in April. Siemens earned 7.8 billion euros in sales from its so-called mobility unit in the last fiscal year, more than the $7.6 billion recorded by Bombardier's transportation division. While Bombardier dwarfs Siemens in rolling stock revenue, Siemens makes almost double that of Bombardier in signaling, according to Barclays analysts.
During the past months, executives from the companies as well as Alstom have declined to comment specifically about any possible agreements.
"It's obvious there's a lot of consolidation going on," Siemens Chief Financial Officer Ralf Thomas said in an interview in May, calling talk of a tie up with Bombardier "rumors." Alstom Chief Executive Officer Henri Poupart-Lafarge has said "a certain consolidation" is probably necessary in Europe, while Bombardier CEO Alain Bellemare said in May the company was "going to look at the entire industry and industry consolidation, and take a proactive approach."
— With assistance by Francois De Beaupuy, Frederic Tomesco, and Benedikt Kammel
Before it's here, it's on the Bloomberg Terminal.
LEARN MORE