Scana Says U.S. Attorney Probing Canceled Nuclear Project
By
Utility had sought to recover $4.9 billion from customers

Price tab for new reactors has ballooned to over $20 billion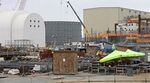 Scana Corp., which had sought to recover $4.9 billion from customers for its canceled V.C. Summer nuclear power project in South Carolina, and a partner have received federal subpoenas for documents related to the plant.
The U.S. Attorney's Office in South Carolina is seeking "a broad range of documents related to the project," Scana said Thursday in a statement. The subpoena served on Santee Cooper, Scana's state-owned utility partner, is for "information" on the project, Nicole Aiello, a spokeswoman for the utility, said by email. Both companies promised cooperation.
Scana and Santee Cooper, halted construction on two new reactors at the Summer plant after costs ballooned to over $20 billion. That decision was opposed by South Carolina Governor Henry McMaster, who says the reactors are still worth finishing. Scana in August withdrew a request recover $4.9 billion of abandonment costs to give state officials time to review the decision to cancel the project.
The subpoena "throws another monkey wrench into the recovery process," Kit Konolige, a New York-based analyst for Bloomberg Intelligence, said by phone Thursday. "Ultimately, they're going to have to justify how they spent the money and was it appropriately spent."
Scana shares touched $57.07 in intraday trading in New York, the lowest since Dec. 11, 2015, and were down 0.42 percent to $57.56 at 11:17 a.m.
Eric Boomhower, a Scana spokesman, wouldn't comment beyond the statement. U.S. Attorney Beth Drake declined to comment. Department of Justice officials can't comment on ongoing investigations, First Assistant U.S. Attorney Lance Crick said by phone Thursday.
Halting the Summer project leaves Southern Co. as the only utility building a nuclear plant in the U.S. McMaster said earlier this month that he was in talks with other utilities that may be willing to complete the plant.
Before it's here, it's on the Bloomberg Terminal.
LEARN MORE