Manchester United CEO Expects Tech Giants to Bid for Live Rights
By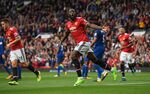 Manchester United Chief Executive Officer Ed Woodward expects technology giants such as Amazon.com Inc., Facebook Inc. and Netflix Inc. to bid for the Premier League's upcoming 5 billion-pound ($6.8 billion) soccer broadcast contract.
"There was strong interest in the last cycle" from the digital groups, Woodward said on a conference call to report record annual revenue of 581 million pounds for the famed Manchester club.
The English clubs, who command the most lucrative sports contract in Europe, are hoping interest from players other than BT Group Plc and Sky Plc will drive up the price of the Premier League rights. The entry of Britain's former phone monopoly into the market over the last two rounds has already inflated prices, resulting in pay-tv company Sky having to pay more than it otherwise would.
On the call, Woodward spoke of the tech companies' recent interest in sports rights around the world, including bids from Facebook and Amazon for Indian IPL cricket rights as well as Facebook's deal to broadcast 22 MLS soccer game in the U.S. English clubs will be given an update on the auction process on Oct. 4 at their stakeholders' meeting.
Mai Fyfield, chief strategy officer for Sky, said that even if it lost the rights, it wouldn't be a calamity. 
"There's a lot of money there to spend on other content," Fyfield said at an industry event in Cambridge last week. "We've lost things before. We've lost the Champions League. You just adjust. We spend the money elsewhere and we're spending it wisely."
— With assistance by Joe Mayes
Before it's here, it's on the Bloomberg Terminal.
LEARN MORE