Kenya Sets Oct. 26 as New Presidential Election Date
By and
Electoral commission delays rerun of annulled vote by a week

Incumbent says Supreme Court decision subverted will of people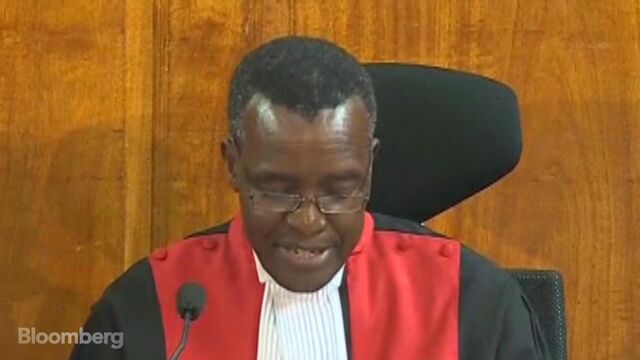 Kenya's electoral commission rescheduled the date for a rerun of last month's annulled presidential vote, as President Uhuru Kenyatta slammed the Supreme Court ruling that overturned his victory as a "judicial coup."
The Independent Electoral & Boundaries Commission said Thursday the vote will be held Oct. 26, nine days later than its initial suggestion, to ensure the body is "fully prepared" to deliver a credible election. Just before, Kenyatta said in a televised address that the East African country's highest court has "subverted the will of the people" with its historic judgment.
The Supreme Court nullified the Aug. 8 vote, the first time a presidential election result has been legally overturned in Africa, after finding the electoral commission committed "irregularities and illegalities" and failed to conduct the vote in line with the constitution. The court cited a litany of failures by the commission in its detailed judgment delivered on Wednesday, including that the body declared the outcome of the vote without the proper documents.
Opposition candidate Raila Odinga has demanded an overhaul of the electoral authority, including the removal of Chief Executive Officer Ezra Chiloba, before he'll take part in the rerun. The IEBC said it will announce further details of its preparations for the vote later on Friday.
The election has clouded the outlook for East Africa's biggest economy where growth is already slowing, and risks tainting its reputation as one of the continent's top investment destinations. Kenya is the world's largest shipper of black tea and a regional hub for companies including General Electric Co. and Coca-Cola Co.
'No Scrutiny'
Kenyatta said Thursday that while the result was nullified "on the assumption that there were irregularities in election-result forms, it is now manifestly clear that despite the fact relevant forms had already been deposited in court, no proper scrutiny or verification ever took place."
"How a decision of that magnitude was without examination of some of the most crucial documents is incredibly startling," he said.
Addressing a gathering of pastoral-community leaders in the capital, Nairobi, earlier on Thursday, Kenyatta said the Supreme Court had set back the democratic ideals Kenyans have sought "over many years" to attain.
Before it's here, it's on the Bloomberg Terminal.
LEARN MORE