KB Home Cuts CEO's Bonus 25% After Rant Against Kathy Griffin
By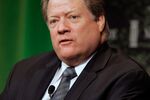 KB Home's board will cut Chief Executive Officer Jeffrey Mezger's annual bonus by 25 percent as punishment for his profanity-laced tirade against comedian Kathy Griffin and warned he'll be dismissed if he does anything like that again.
Mezger's bonus for the fiscal year ending Nov. 30 will be reduced by $375,000, based on performance targets, because of "recent behavior in his personal dealings with a neighbor," the board said in a regulatory filing Thursday, calling his conduct "unacceptable."
The Huffington Post on Tuesday posted an audio recording of comments Mezger, 62, made to Griffin and her boyfriend after they called Los Angeles police to complain about noise from the CEO's property. He's heard using profanities and a homophobic slur to describe the comedian.
Read more: KB Home CEO apologizes for profanities against Griffin
It's rare for boards to publicly levy monetary penalties on executives for transgressions that aren't in some way related to their jobs.
"Pressure on a board to act increases when stories of CEO conduct are picked up by the media," David Larcker, the James Irvin Miller professor of accounting at the Stanford Graduate School of Business, wrote in "Scoundrels in the C-Suite," a 2016 academic study. "Valid or not, allegations can spread virally and references to prior occurrences can resonate in news stories years after they initially occurred -- with a lingering effect on corporate reputation."
Mezger hired Sitrick & Co., a Los Angeles-based public-relations firm that specializes in crisis communications.
Before it's here, it's on the Bloomberg Terminal.
LEARN MORE