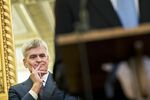 It's hard to imagine a health-care plan more disruptive than previous Republican efforts to repeal Obamacare, which would have resulted in 24 million more uninsured Americans in 2026.
But the Senate GOP may have managed it with the Graham-Cassidy bill, the latest bid to repeal the Affordable Care Act (ACA) and dramatically alter Medicaid. It's unlikely to pass by a September 30 deadline, but insurers are still running scared. 

Like some previous repeal efforts, Graham-Cassidy would cap Medicaid funding and cut support for the individual insurance market. Consulting firm Avalere estimates federal funding to states for these programs would decline by $215 billion from 2020-2026. The bill would also end the requirement that individuals buy insurance and that employers of a certain size provide it. 
On top of that, the bill would give states the power to end some of the ACA's protections for sick people, which could result in some Americans being priced out of comprehensive coverage. That could add up to a substantial increase in the number of uninsured Americans -- and serious pain for insurers focused on the individual market and Medicaid. The left-leaning Commonwealth Fund estimates that as many as 18 million people could become uninsured in 2019, and 32 million after 2026. 
What likely makes this bill worse for insurers is how the funding is structured.
Starting in in 2020, Graham-Cassidy would replace Obamacare's subsidies and Medicaid expansion funding with a defined "block grant," leaving state governments to run Medicaid and individual insurance markets on a strict budget. The federal government's open-ended funding of a portion of state Medicaid costs would be changed to a per-capita allotment with a fixed growth rate. It would leave each state with the rather daunting task of designing a new health-care system from scratch in two years. Many would have to do it with much less money -- the bill would shift funding from states that expanded Medicaid to those that didn't, disproportionately harming states like New York, California, and Massachusetts.
States would also be working with the knowledge that the federal funding they do get could expire in 2026, when Graham-Cassidy's block grants would be set to end, creating a staggering funding cliff. Big cuts to Medicaid programs run by private insurers, and to government support for the individual market, are all but certain.   

The chaos extends to regulations. States under Graham-Cassidy will be able to pick and choose consumer protections and insurance offerings, likely leading to substantial variation around the country. Against that backdrop, large insurers would have to figure out the states in which they want to do business and design and price their plans in a variety of regulatory frameworks. Such a task would be difficult even in times more stable than these. 
Molina Healthcare Inc. has been one of the most successful ACA insurers and still managed to lose a bunch of money in the second quarter, in part due to poor performance in a few markets. That sort of unpleasant surprise could become much more common under Graham-Cassidy.

The ACA has been no cakewalk for insurers. But the unprecedented state-by-state changes and added Medicaid cuts of Graham-Cassidy would likely make even its critics look back at Obamacare wistfully. 
Before it's here, it's on the Bloomberg Terminal.
LEARN MORE