Gordhan Calls for Disclosure After Meeting KPMG's Veihmeyer
By
Auditing firm 'has moral duty' to account for conduct: Gordhan

KPMG withdrew tax report that played part in Gordhan's firing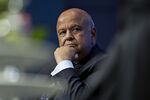 South Africa's former finance minister, Pravin Gordhan, said he insisted on "full and proper disclosure" when he met with KPMG International Chairman John Veihmeyer on Thursday over concerns arising from the auditing firm's work for the country's tax authority.
Gordhan, who was fired as finance minister in March, was accompanied by his former deputy, Mcebisi Jonas, the two said in a statement sent to Bloomberg via WhatsApp. A KPMG report on an alleged illegal unit at the tax authority, since withdrawn by the firm, was used as evidence in a criminal investigation of Gordhan.
KPMG has agreed to an inquiry by the South African Institute of Chartered Accountants after the firm withdrew the findings of the report on the tax agency, and eight senior executives quit following an internal investigation into work done for the politically connected Gupta family. Veihmeyer this week apologized for "what went wrong in KPMG South Africa" before requesting the meeting with Gordhan.
'Strong Feelings'
"We shared our strong feelings and disapproval of the manner in which KPMG South Africa has been involved in the validation of state capture," Gordhan and Jonas said, using a term that refers to pillaging of state resources by politically connected business people. "KPMG has a moral duty to account for its conduct to the South African public and they have to be frank, unequivocal and transparent."
KPMG's public relations office didn't immediately respond to messages or return calls when Bloomberg contacted them seeking comment.
South Africa's central bank said Thursday it's concerned about the quality of internal controls at KPMG. An internal inquiry by the accounting firm criticized its role in advising a Gupta-linked company on the acquisition of a coal mine from Glencore Plc and said four KPMG partners shouldn't have attended a lavish Gupta family wedding. Sasfin Holdings Ltd. and Hulisani Ltd. have dumped KPMG as auditors and Barclays Group Africa Ltd. and Investec Ltd. have said they are considering ending their relationship with the firm.
The fall out from the South African corruption scandal that implicated global companies including KPMG may be a "big wake-up call" to those considering an investment in the country, according to Imperial Holdings Ltd. Chief Executive Officer Mark Lamberti.
— With assistance by Stefania Spezzati
Before it's here, it's on the Bloomberg Terminal.
LEARN MORE