Rio Tinto Vies With Google and GE for High-Tech Workers
By
Rio Tinto Group plans to boost parental leave to 18 weeks

'Some jobs at Rio Tinto are changing,' Rio CEO Jacques says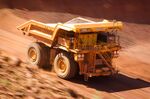 Rio Tinto Group, the world's second-largest mining company, is focused as much on driver-less trucks and automated drills as conventional shovels and loaders these days. That means it needs a whole lot more high-tech workers.
The London-based company is stepping up efforts to lure engineers and technicians, in part by expanding benefits including family leave. Rio Tinto will now provide 18 weeks of paid time off globally following the birth or adoption of a child, up from as little as six weeks in the U.S., the company said Thursday. It's also offering secondary caregivers one week of paid leave.
The effort underscores the increasing emphasis on hiring to maintain and expand robotics systems as mining companies push to reduce operating costs after global commodities slumped for five years through 2015. While automation promises improved productivity and profit margins, it also means miners are now competing with the likes of Alphabet Inc.'s Google, General Electric Co. and others for workers.
"Some jobs at Rio Tinto are changing with technology and the needs of our customers," Chief Executive Officer Jean-Sebastien Jacques said in an email. "We need to attract top talent for very pioneering opportunities. Flexible family policies like the parental leave standard help us to stay competitive with the likes of Google, GE or Samsung."
Automated drills and driver-less trucks are among the new tools employed by the four biggest iron-ore producers in a bid to preserve profit margins during the recent bear market.
Bucking the Trend
Rio said they're implementing the new policy globally at the company and that it won't be gender-specific, bucking the trend of tailoring parental leave to individual countries' standards. In the U.S., Rio's previous policy was for employees to get 6 to 8 weeks of maternity leave.
The move has caught the attention of the International Finance Corporation, an arm of the World Bank that aids private-sector expansion in developing countries.
The IFC is set to release a report next month addressing childcare and empowering women in the workplace. The study will include case studies of companies from around the world, including the U.S., Turkey, Jordan, Japan and Brazil, among others.
"I'm sure Rio Tinto's initiative will pave the way for other corporations to support such efforts," Namrata Thapar, IFC's global head of mining, said in an email. "It follows along the same lines of work being done within IFC to make clear the economic argument for employer-supported childcare in even the poorest countries."
Before it's here, it's on the Bloomberg Terminal.
LEARN MORE