Ghani Assures Trump U.S. Troops Won't Lead Fight in Afghanistan
By
Afghanistan president lauded Trump for adding American forces

U.S. said this week it's adding more than 3,000 troops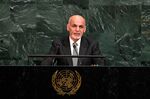 Afghanistan President Ashraf Ghani said Thursday that his government's soldiers will shoulder the burden of combat with the Taliban in their country even after the U.S. increases troop levels.
In a meeting at the United Nations General Assembly, Ghani complimented U.S. President Donald Trump for his decision to add American forces to the country. "The cloud of uncertainty has been lifted," Ghani said to reporters.
"We are training and we're working with them very closely but it's the Afghans that are doing the fighting," Trump said.
Ghani said a day earlier that Trump's Afghanistan war strategy has the potential to be more successful than former President Barack Obama's, in part because Trump is taking a tougher approach to Pakistan. Vice President Mike Pence met earlier this week with Pakistan's Shahid Khaqan Abbasi.
Trump said that 20 terrorist groups are operating in the country.
"It's really a hornet's nest from that standpoint," he said. "We are hitting them very, very hard and very effectively. We really have no choice but to do it."
Defense Secretary James Mattis said this week that the U.S. is sending more than 3,000 additional troops to Afghanistan.
Trump last month announced an open-ended commitment to Afghanistan that could place 4,000 more U.S. troops into the nation's longest-lasting conflict and keep U.S. forces there as long as it takes to deny terrorists a haven and reach a political settlement with the Taliban.
The approach marked a shift for Trump, who promised in his campaign to eschew military entanglements and nation-building abroad to focus resources at home.
Trump said last month that the U.S. can't "be silent about Pakistan's safe havens for terrorist organizations, the Taliban, and other groups that pose a threat to the region and beyond. He said Pakistan "has much to gain from partnering with our effort in Afghanistan. It has much to lose by continuing to harbor terrorists."
— With assistance by Shannon Pettypiece, Toluse Olorunnipa, and Justin Sink
Before it's here, it's on the Bloomberg Terminal.
LEARN MORE