Photographer: ED JONES/AFP via Getty Images
Five Things You Need to Know to Start Your Day
Get caught up on what's moving markets in Asia.
By
Want to receive this post in your inbox every morning? Sign up here.
Trump adds to North Korean sanctions, China gets a hollow downgrade, and May to deliver a huge speech. Here are some of the things people in markets are talking about.
More Sanctions
U.S. President Donald Trump upped the pressure on Kim Jong Un's regime with a fresh set of sanctions against individuals, firms, and financial institutions doing business with North Korea. According to the president, these new measures  – which include a 180-day ban on ships that have visited the country or done a ship-to-ship transfer with one that has – will disrupt crucial North Korean shipping and trade networks. Trump also said that the People's Bank of China has ordered local banks to cut of business with the rogue state. Treasury Secretary Steven Mnuchin added that he made China's central bank aware of the administration's executive order in advance of the announcement on Thursday morning. Kim Jong Un responded to Trump's moves by calling him a "mentally deranged U.S. dotard," according to remarks published by a state-run news agency. North Korea foreign minister Ri Yong Ho told reporters in New York that Trump's threat to "totally destroy" the nation, made earlier this week in his address to the United Nations, was like "the sound of a dog barking." South Korean President Moon Jae-in urged attendants at the UN General Assembly to manage the crisis in a "stable manner" to ensure that accidental war does not break out. Bond buyers, however, remain undeterred by the rising tensions on the peninsula, with offshore bond sales by South Korean issuers up big so far in the second half of 2017 compared to the same stretch last year.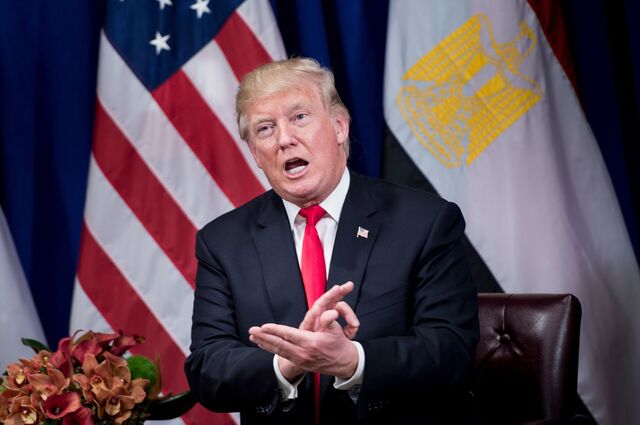 Toothless Cut
China was downgraded by S&P Global Ratings for the first time since 1999, cut to A+ from AA - with rapid credit growth the proximate cause of the cut. Earlier this year, Moody's also lowered the sovereign credit rating for the world's second-largest economy. Ironically, the downgrade might be good news for bulls, at least in the short term, judging by the previous instance, and also because it gives Chinese policymakers more reason to prop up financial markets ahead of the Communist Party's 19th Congress next month. Money managers and analysts alike expect investors' appetite for Chinese debt to remain immense.
May Day
U.K. Prime Minister Theresa May is slated to deliver a speech on Friday afternoon in Florence, Italy to clarify her evolving position on the terms of an exit from the European Union and what the relationship between the two parties will look like after the divorce. Ahead of the speech, May's cabinet appears to have rallied behind the leader just days after Foreign Secretary Boris Johnson put forward his own vision for the U.K.'s departure. The other 27 member states in the bloc are united in their stance that the U.K. must agree on a financial settlement before any trade talks begin; May is mulling putting forward 20 billion euros for this so-called "Brexit bill."  It's expected that the prime minister will strike a conciliatory tone and ask for a transition period after March 2019 to dampen any shock to the British economy. Still, some currency traders believe the address could provide the perfect opportunity to re-initiate pound shorts. Michel Barnier, chief Brexit negotiator for the E.U., said that the U.K. would have to abide by all the bloc's rules during any such interim phase. The next round of talks between Barnier and his U.K. counterpart, David Davis, begins on Monday in Brussels. For many E.U. countries, however, Brexit simply isn't the most important item on the agenda right now. 
Stocks Slip
Benchmark U.S. equity indexes gave back ground on Thursday, with tech, consumer, and health care stocks faring particularly poorly. 10-year Treasury yields and the Bloomberg Dollar Spot Index inched higher. Oil was little changed on Thursday after major producers sent mixed signals on whether they were discussing a potential extesion of their deal to limit output. Metals sank, with iron ore getting hammered.
Futures Up
Nikkei 225 and S&P/ASX 200 futures are in positive territory ahead of the final session of the week after the MSCI Asia Pacific Index suffered its biggest drop in nearly five weeks on Thursday. The yen and Aussie lagged most G-10 crosses on the day after the Bank of Japan stood pat and Reserve Bank of Australia Governor Philip Lowe delivered a dovish speech.
What we've been reading
This is what caught our eye over the last 24 hours.
Before it's here, it's on the Bloomberg Terminal.
LEARN MORE