AT&T to Uber Offer Free Services to Help Mexico Quake Response
By and
Businesses large and small offer free services to aid victims

Everything from phone service to travel offered without charge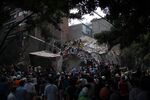 The earthquake that struck Mexico City on Tuesday turned one of the world's biggest cities into a disaster area, interrupting communications and transportation, in addition to destroying at least 38 buildings in the capital and killing more than 200 people nationwide.
The government and military sprang into action, and the private sector wasn't left behind. Hundreds of businesses, from major companies to small restaurants, changed their day-to-day operations and donated services in order to help. Here's a list of some:
Telcel, AT&T and Movistar, the nation's largest mobile carriers, made phone calls, internet and text messages free to help facilitate communication
Billionaire Carlos Slim's foundation said it would donate 5 pesos for every one peso that Mexicans donated toward relief efforts
Taxi companies Uber and Cabify offered free rides on the day of the quake and to places such as hospitals, shelters and relief centers in the days after
Tortilla-maker Gruma supplied shelters and set up mobile stations to provide food
Bus companies ADO and ETN offered free round-trip tickets to affected cities for paramedics and rescuers who wanted to help
Olive Garden restaurants were converted into community kitchens to provide free meals to paramedics, firefighters, rescuers, volunteers and victims
Farmacias Benavides offered free medical appointments
Grupo Modelo made available 400 trucks and their crews to deliver relief supplies
Santander Mexico, Inbursa, Banorte, BBVA Bancomer and Scotiabank temporarily waived ATM fees for cash withdrawals in areas affected by the earthquake
Soriana turned some of its stores into supply collection points and offered free medical consultations at certain locations
Before it's here, it's on the Bloomberg Terminal.
LEARN MORE