The Fate of Frida Grips Mexico After Deadly Quake
By
Traumatized residents poured their hope into a rumor of rescue

Her name was everywhere, but she was just wishful thinking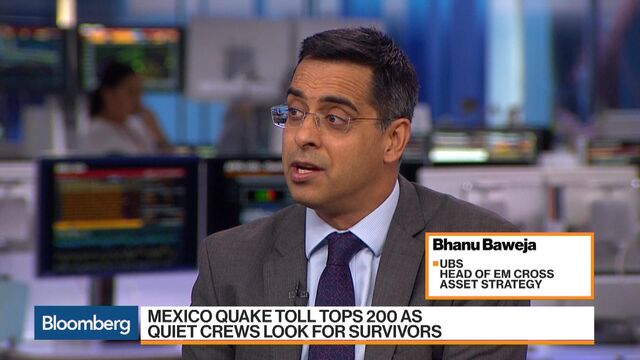 Since the moment Mexico City buildings turned into piles of dust around me, each ruin has attracted its group of volunteers bringing water, tools and their frantic labor.
But the Colegio Rebsamen in the Villa Coapa neighborhood has become the focal point of a disaster that spanned a city of 20 million and several states, a site for the nation to direct its sorrow and its hopes. At least 21 students and four adults died there in this week's earthquake. By early Wednesday, 11 people had been rescued. It was unclear whether anyone remained in the the rubble, but for a day the fate of a supposedly trapped 12-year-old transfixed a nation that wanted to believe.
There wouldn't be a happy ending: Frida Sofia didn't exist. She was the product of wishful yearning.

For seven hours Wednesday, I watched rescuers dig through the heap, trying to pull children from the school. It was a grim break in routine for a reporter who usually covers monetary policy and political parties. Hundreds of soldiers, rescuers and volunteers joined local and international media, ranks of camera crews and distraught parents, a distillation of tragedy.
Dump trucks were filled with plastic playground equipment, orange classroom chairs were strewn on the ground along with glass and twisted beams, and relatives of the missing waited behind police lines for news of their loved ones.
Soldiers and volunteers were all caught up in the same hope. Some suffered heat exhaustion and were helped into the garage of a nearby house refitted as a triage center.
Alert, Disappointment
Jazz, a Belgian shepherd rescue dog, sniffed out a person early Wednesday. His owner, electrician Raul Bolanos, prayed it was Frida Sofia. When an ambulance pulled up and everyone was told to freeze for five minutes, a rumor rippled through the throng: They'd found the girl. Excitement turned to pain when hours later, they found the body of a grown woman.
Lulu, a 10-year-old pupil, described how the kindergarten and secondary school wings crumbled around her as she fled.
"The classroom started to shake," she said. "As we were leaving the building, the principal's office collapsed. We ran quickly. I saw children everywhere. Then there was a gas leak, and we had to run from that."
Uneasy Luck
Her building stood. Her mother, Lourdes Prieto, a 42-year-old systems engineer, seemed almost wary of her good fortune.
"I just don't know at what cost this will come," said Prieto, wiping her bleary eyes as she and her daughter waited for news of schoolmates. "We've already been to church to give thanks."
Inside the disaster site -- and throughout the nation -- people prayed for more occasions of thanksgiving. Frida Sofia became their focus. One of the hundreds of soldiers there told me she had been found alive. Rescuers brought her food, he said, but her legs were trapped under concrete.
He hadn't actually seen her.
Mystery Girl
Local media said she was on the verge of rescue. The Televisa network broadcast dueling reports that either put Frida Sofia right underneath a table on which rescuers were standing, or one floor lower and harder to reach. Local television had a live feed trained on the school.

The rumor about Frida Sofia had spread far and wide, from rescuers who talked to someone who talked to someone to the great expanse of social media, where Mexico's top trending topic Wednesday was #FridaSofia.
On Thursday, Navy Assistant Secretary Angel Enrique Sarmiento, who is overseeing the site, said that all children had been accounted for, either at hospitals, safe with their parents or dead. There was no Frida Sofia.
When you consider the shocks Mexico has endured -- Tuesday's was the second deadly quake this month -- it's no wonder the imaginary girl became a symbol of hope. Each time helmeted workers held up their fists to signal for silence as they listened for signs of life, it was followed by a buzz from volunteers to paramedics that this could be the moment she'd be whisked to safety.
The nation was gripped. So was I. For hours, I forgot the mundane tasks of figuring out where I'd stay for the following nights after the quake damaged the roof of my apartment building. How would I file a story with no mobile-phone service, or get back to the office when main thoroughfares were blocked?
I even stopped reporting, and just watched, hoping to hear the cheers everyone said had come the night before when children were rescued.
Before it's here, it's on the Bloomberg Terminal.
LEARN MORE