A Lone Hiss Among the Raucous Cheers for the Federal Reserve
By
Brean Capital's Tchir says don't worry about hiking rates

Higher costs seen hurting homeowners, students and retirees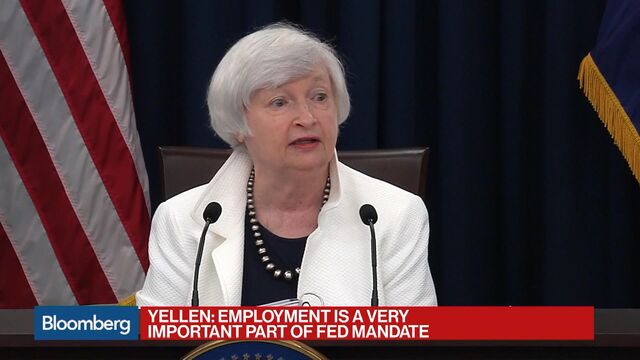 Financial markets and the global economy have largely applauded the Federal Reserve's gradual normalization of interest rates and plans to reduce its balance sheet.
Peter Tchir, head of macro strategy at Brean Capital LLC, wasn't as enamored following the central bank's announcement Wednesday.
The Fed needs to go even further, according to the strategist, and commit to holding off on any more rate increases unless inflation gets out of hand. Such a course of action should help steepen the yield curve to levels that better support the current needs of the American economy, he argues.
It's a somewhat lonely view, one that roughly aligns at least in practice with just two Fed officials -- likely regional Fed Presidents James Bullard and Neel Kashkari -- who advise keeping the policy rate where it is through 2019.

Buoyant risk assets and low volatility in employment and output growth don't necessarily mean the central bank's been doing the best job possible, according to Tchir, who believes the Fed's approach to tightening has stifled consumption and productive investment activity. Four rate hikes have done enough harm to nearly every class of borrower -- from homeowners to people who owe student loan or credit card debt -- Tchir contends, a stance that belies the overall loosening in U.S. financial conditions indexes since the tightening cycle was initiated in December 2015.
"The combination of the Fed hiking short-term rates while structural changes to money markets were being implemented disproportionately hurt borrowers benchmarked to 12 month LIBOR," he wrote in a note to clients ahead of the Fed's September decision. "This really had a dramatic effect on home equity lines of credit and ARMS, which directly impacted the cash flow many American families, who rely on this form of borrowing."
Meanwhile, the central bank's continued presence in the Treasury market has exerted flattening pressure on the yield curve, he says, which adversely affects many parties -- from regional and community banks to retirees -- while helping well-established blue-chip companies able to take advantage of low long-term borrowing costs and tight credit spreads.
"The bottom line is that flat yield curves, at least partially shaped by Fed holdings and ongoing reinvestment, have helped companies," explains Tchir. "But, it has disproportionately helped the large companies, particularly those with offshore cash hoards, tap the markets and hasn't translated into more robust borrowing for smaller companies."

Persistently sluggish inflation, which Fed Chair Janet Yellen deemed a "mystery" on Wednesday, gives the central bank cover to normalize only the balance sheet and not rates for the time being. The Fed largely clings to the notion that continued rate rises are justified because an improving labor market will foster inflationary pressures down the road, and these hikes influence activity with a lag -- but that's in part because of the absence of an alternative coherent guiding light for policy making.
"By simplifying their goal down to balance sheet reduction, away from an inflation shock, markets can price in a stable front end of the yield curve and focus on the back end," he concludes. "Ultimately that should result in a yield curve that benefits short term borrowers (homeowners and student debt holders), and helps banks, pension funds, insurance companies and retirees."
Before it's here, it's on the Bloomberg Terminal.
LEARN MORE