Yellen Says Fed Is Monitoring Banks for Harm From Equifax Breach
By
Attack shows importance of cyber security controls, she says

Supervisors said working to ensure appropriate steps are taken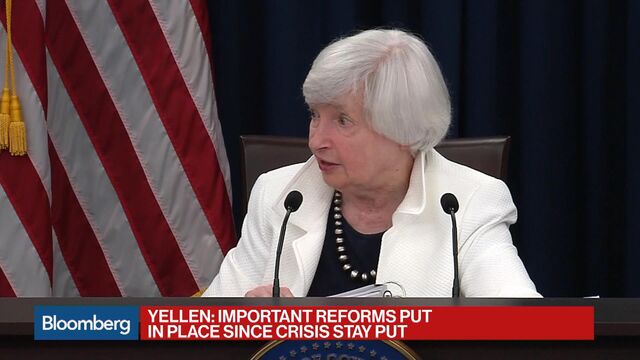 The Federal Reserve is working with the banks it supervises to guard against fraudulent transactions and other potential harm stemming from the "very serious" Equifax Inc. data breach, Chair Janet Yellen said Wednesday.
Consumers should monitor their credit reports and personal finances in response to Equifax's disclosure that personal information on 143 million Americans may have been compromised, Yellen said at a news conference in Washington. The Fed is working to ensure banks take appropriate actions if fraudulent transactions are found or if data is contaminated, she said.
"It points to the importance of strong cyber security controls and attention to cyber security risks, which we do see as one of the most significant risks to the financial sector," Yellen said of the breach, which was disclosed by Equifax earlier this month.
The Fed doesn't oversee credit reporting companies like Equifax, but it does monitor the activity of banks that use the information they provide in determining whether consumers should get loans. The information stolen from the Atlanta-based company included data that is considered the keys to the kingdom in committing identity theft: Social Security numbers, drivers license information and birth dates.
Quotes from this Article
Before it's here, it's on the Bloomberg Terminal.
LEARN MORE