World Leaders Push More Inclusive Approach to Globalization
By
Trade has driven global growth for centuries, Trudeau says

Future of world work to be in services jobs, Alibaba's Ma says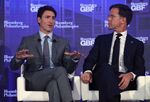 Global political and business leaders defended trade and globalization while acknowledging that countries must do more to address the concerns of people who feel left behind.
"Trade leads to growth. That's the story of our world over the past centuries, and that's a good thing," Canadian Prime Minister Justin Trudeau said Wednesday at the Bloomberg Global Business Forum in New York. But "that growth hasn't necessarily reached everyone," and that's led to either to political backlash "or falling back into the politics of fear, division, or envy or inward turning."

Rather than mourning the loss of manufacturing jobs, the world should embrace the technological advances diffusing through the global economy, which will create growth in service jobs, said Alibaba Group Holding Chairman Jack Ma.
"We should not talk about made in China, made in America. It's going to be made in the Internet," he said.
Their comments came as world leaders gathered in New York for the annual United Nations General Assembly this week. While President Donald Trump was scarcely mentioned by name during the early part of the business forum, his administration's nationalist approach to trade and immigration policy loomed large in the discussions. Trump has said he'll put "America First" in his policy agenda, and during a speech Tuesday at the UN he threatened to "totally destroy" North Korea if forced to defend the U.S. or its allies.
'Multilateralism' Needed

French President Emmanuel Macron said the current system of international rules needs to be overhauled to address the world's challenges. But he emphasized that cooperation must be at the core of any new system.
"We are in a very specific moment. We have a lot of global challenges: climate change, migrations, terrorism -- and for that, we do need multilateralism," he said.
Countries need to take cooperation "to another level," said former U.S. President Bill Clinton. "It depends upon our mind and our heart; first believing that we can and must every day expand the definition of us, shrink the definition of them."
Trudeau said the next step for nations will be to champion "progressive" trade agendas, citing the need for provisions to strengthen labor and environmental standards and promote gender equality in trade accords.
Watch Next: Jack Ma on Building the Economy of the Future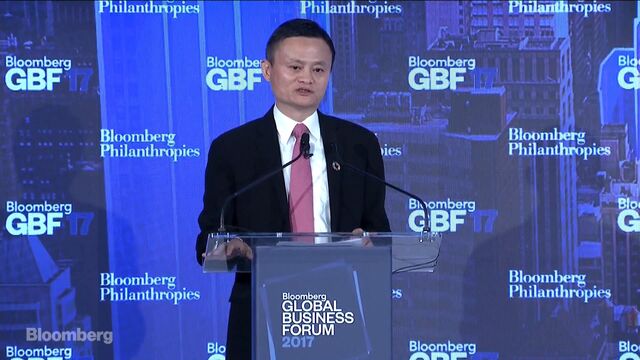 — With assistance by Josh Wingrove, and Greg Quinn
Before it's here, it's on the Bloomberg Terminal.
LEARN MORE