Business
The Future of Shopping Has No Clothes
In a bid to beat back e-commerce, Nordstrom and Wal-Mart adopt its tactics. But are "Guideshops" a winning strategy, or simply delaying the inevitable?
By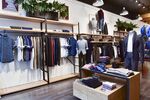 When shoppers walk into the new Nordstrom store in West Hollywood, Calif., next month, they'll find tailors altering suits and stylists doling out advice. They'll be able to sip some wine or cold-pressed juice, and maybe even get a manicure as they choose a new wardrobe. What they won't be able to do is take any clothes home.
The slow destruction of in-person retail has generated a new tactic by struggling American stores. Looking to cut costs while keeping consumers interested, they've taken a page from the e-commerce playbook. Nordstrom Local is the latest iteration of this concept: clothing retailers with little or no merchandise. Come in, pick out a dress, and place your order—then go home empty-handed. 
At first, the inexorable march of the online economy was stalled by the apparel industry—you can't try on clothes you're ordering online. The new store-without-stock strategy tries to exploit this obstacle. By having merchandise shipped to your home from warehouses, these stores don't have to flip inventory every season or mark down piles of sweaters that aren't selling. Most important, supply chains don't have to route trucks from warehouses to stores. That's a lot of slashed overhead.
And it's not just Nordstrom Inc.—Wal-Mart is betting there's a future in these sort-of stores, too. "A store with no inventory becomes very, very efficient," said Michael Brown, a partner at the retail division of consulting firm A.T. Kearney. "You can get very streamlined."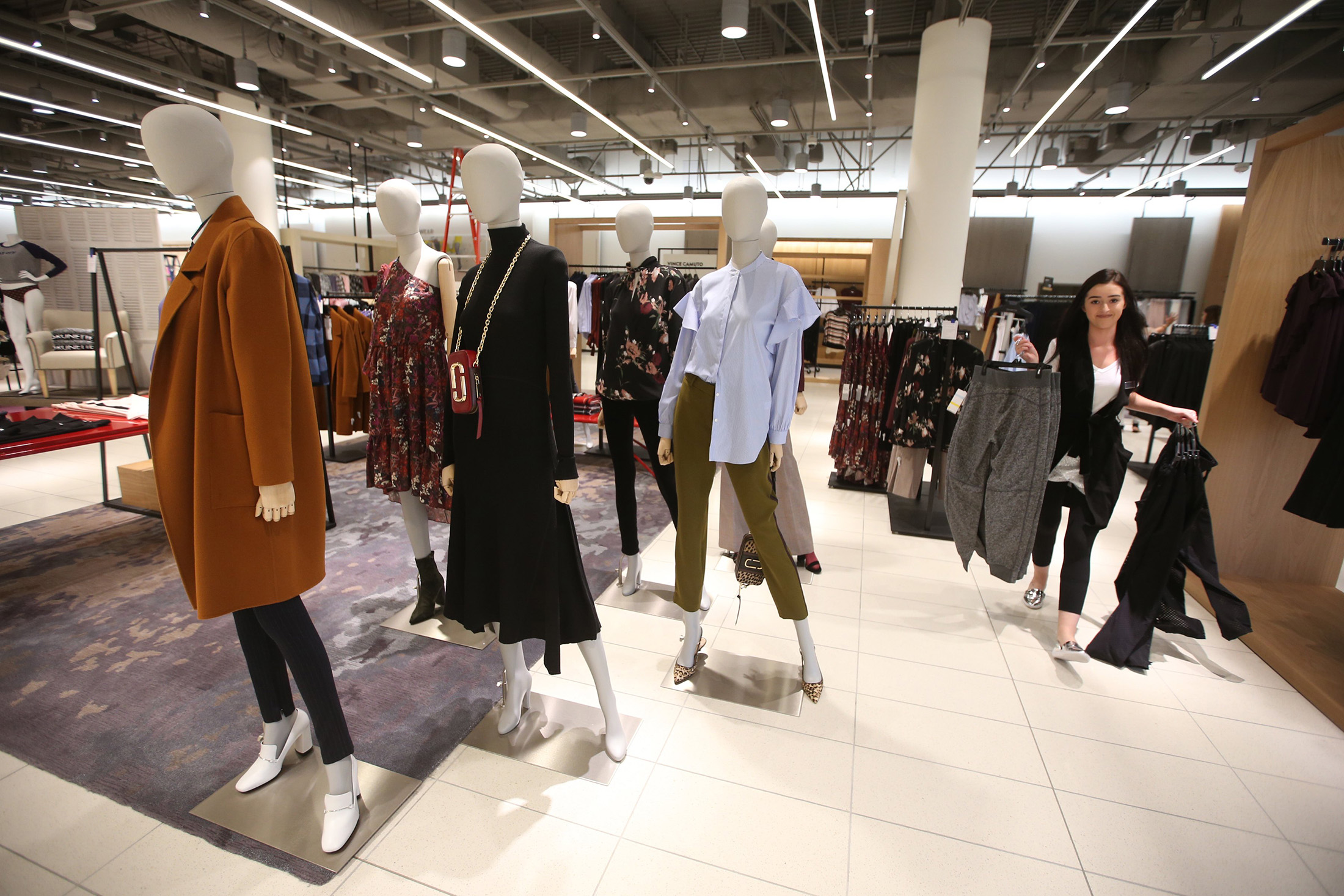 Wal-Mart Stores Inc. jumped feet first into the new model when it bought "Guideshop" pioneer Bonobos for $310 million in June. An earlier Wal-Mart purchase, ModCloth, uses a hybrid version of the sales strategy. Founded in 2002, the online vintage boutique opened its first permanent store in March. It allows shoppers to buy and take home small goods including gift and home decor items, as well as a few dresses. But the rest of the store is filled with showroom pieces and samples to try on and order. They'll be delivered to you later. 
Beyond the necessary terror of the fitting room, the other advantage of brick-and-mortar stores is purely emotional. The ultimate joy of spending has always been the instant gratification of taking home a new possession. This hasn't been lost on retailers looking to adopt a Guideshop model, says Brown, who explains that same-day delivery will become mandatory for these stores to work. Nordstrom Local, for instance, has same-day delivery via traditional shipping services if you order early enough in the day.
Like those who followed in its footsteps, Bonobos started out as direct-to-consumer via the internet. Now, with more than 40 locations across the U.S., it allows in-store shoppers to try on various shirts, chinos, and suits—then order them online. You can either schedule a one-on-one appointment or just walk in. The personalized service seems to inspire loyalty, with shoppers spending more than 30 percent of their apparel and accessories budget at Bonobos, according to data from market research firm NPD Group. Nordstrom clocks in at just 20 percent of wallet share. Wal-Mart didn't return requests for comment, while Nordstrom said its new store "is a test concept for us and we're focused on taking care of customers."

The concept of clothier-as-showroom has traditionally been aimed at a wealthier demographic. At MM.LaFleur, an online women's workwear label that will soon have three physical locations, dresses start at $195 and climb rapidly. Walk-in visitors will get an hourlong consultation, while shoppers who book appointments are greeted with a pre-curated closet, style tips—and Champagne. Then they order their outfit and have it delivered wherever they want.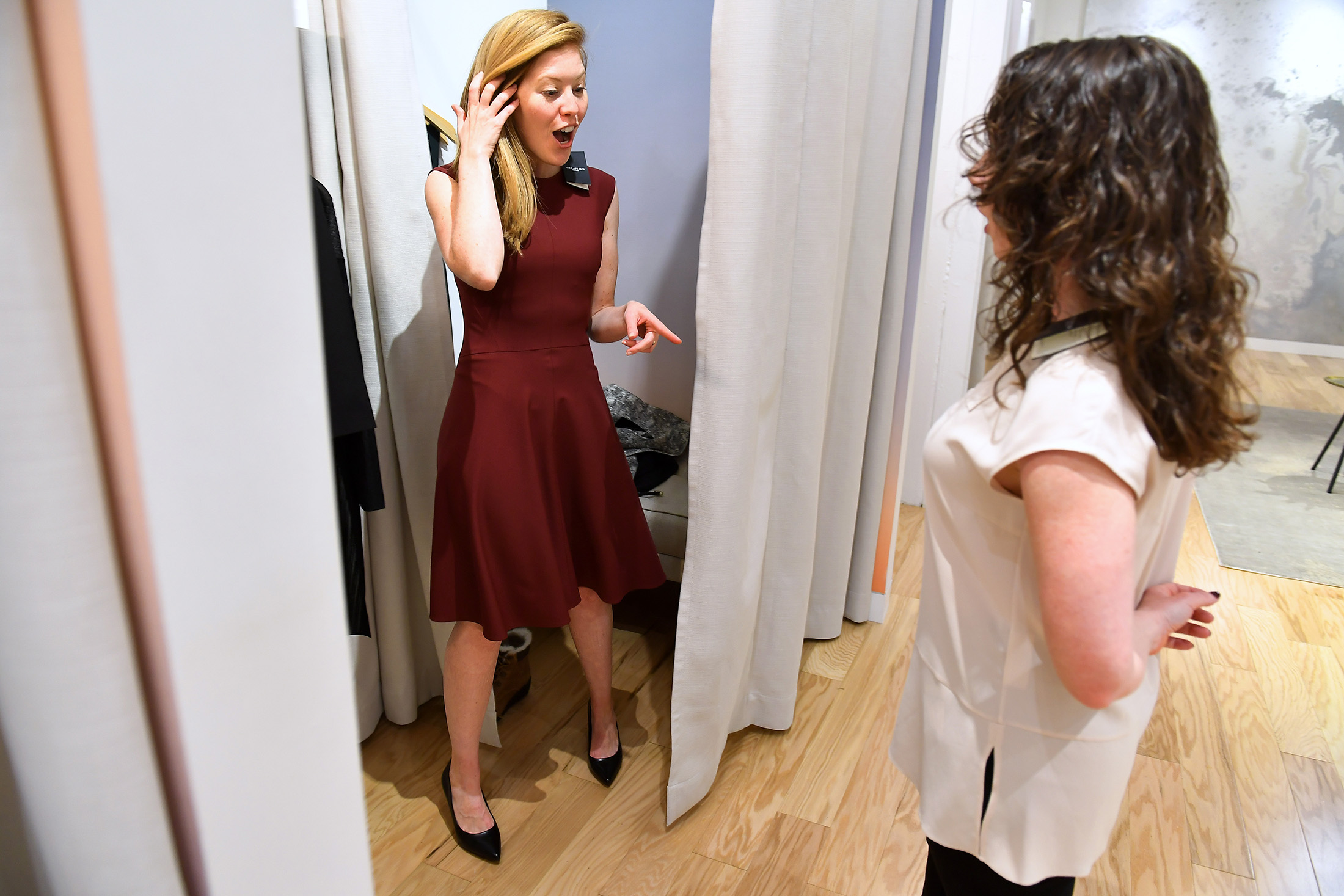 A more extreme version of the minimalist retail concept is Indochino, a menswear retailer that's part of a tech-driven trend for made-to-order clothing. With more than 15 showrooms in North America, it mainly serves as a fit center for men who can afford bespoke suits. An associate takes measurements, and details are chosen on the spot, from lining patterns to button types. Indochino transmits the details to a suit-maker in China, and a few weeks later, the customer returns to try it on—any last-minute alterations are made on the spot. 
For department stores hoping to survive the online onslaught, or at the very least slow it down, experiments such as Guideshops are critical. Yet one of the key arbiters of this stratagem, Wall Street, has yet to show approval. Puzzled by Nordstrom Local, investors sent the company's shares down as much as 5.4 percent. (Nordstrom's founding family has been considering taking the company private and is now in search of a private equity buyer.)
But Mike Kim, a director at supply chain consultancy AArete, has a more positive take. Department stores are hulking beasts with a lot of overhead—they require a lot of nearby shoppers to make economic sense. While it isn't worth plopping one down in a small town, a little outpost for trying on clothes and getting them shipped just might be, opening up new markets that retailers otherwise would have to pass by.
"It's a smart way to do more with less," said Kim. For department stores, that's increasingly becoming a way of life. —With Lindsey Rupp
Before it's here, it's on the Bloomberg Terminal.
LEARN MORE