Texas Endowment Hits Brakes on Private Equity as Values Rise
By
New CEO Britt Harris seeks to prepare for economic downturn

UTIMCO boss also planning to renegotiate fees for managers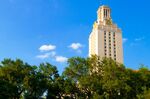 The largest public university endowment in the U.S. is pausing an aggressive expansion of investments in private equity as valuations have surged.
The University of Texas Investment Management Co. is assessing its allocation to buyout and other private equity funds after the asset class increased to 40 percent of the $29 billion endowment, Chief Executive Officer Britt Harris said in a phone interview. The nonprofit oversees assets for the University of Texas and Texas A&M University.

Bruce Zimmerman, who resigned in October after nine years as UTIMCO's CEO, oversaw an expansion of the endowment's investments in buyout, venture capital, real estate and other private funds, increasing them from about 12 percent of the portfolio.
Liquidity Needs
Harris said that while he has no plans to cut back, he's not boosting the exposure, given higher valuations and the potential need for liquidity if there's an economic downturn. Private investments such as buyout funds require backers to make multi-year commitments that tie up their money, which can't be easily accessed in times of crisis.
"Whenever a correction occurs we need to be strong hands," said Harris, 59, who was hired in June from the Texas Teachers Retirement System. "The endowment model is generally a good model but showed its Achilles' heel in 2008 by not having enough liquidity."
See also: Texas endowment increases stake in private equity funds
Harris also said he will renegotiate fees with all the endowment's managers in coming months, putting in place hurdle rates they must meet to earn performance bonuses. Texas could end up trimming the number of managers across the portfolio as he reviews performance.
"One of the things we need to do is get our compensation better aligned," said Harris, referring to pay for outside fund managers that invest the endowment's money. "We will be making an assessment of the firms we want to go forward with."
Endowments and foundations have been seeking to cut management costs and concentrate bets with their best performing funds as returns have become more volatile and muted in the years since the 2008 financial crisis. While most schools are reporting double-digit investment gains for the year ended June 30, the average 10-year performance in higher education is stuck at about 5 percent, dangerously close to what is spent annually from the funds to support academics.
Performance Fees
Harris said the endowment's outside fund companies will earn a 30 percent performance fee on net returns if they meet a certain hurdle rate, while laggards will only get a 1 percent management fee for their work. He said the compensation plan was developed at Texas Teachers and recognized by the industry as a best practice.
UTIMCO produced a 13.4 percent return in the most recent fiscal year, a top-quartile performance compared with peers, it said in a report last week. Still, it has been a laggard over the past decade, with an average annualized gain of less than 5 percent, saying it missed opportunities because it traditionally has had a more conservative portfolio.
The investing arm of the university systems manages an additional $12 billion of operating funds, bringing total assets under management to more than $40 billion.
Public Pension
Harris joined UTIMCO from the Teacher Retirement System of Texas, which has assets of $140 billion but as a public pension allocates less to alternative assets than many large university endowments. Prior to joining Texas Teachers in 2006, he managed the pension fund at Verizon Communications Inc. and spent six months as CEO at Bridgewater Associates, the world's biggest hedge fund.
"He seems to be bringing with him this sense of caution with regard to asset allocation and fees," said Thomas Gilbert, an assistant professor of finance and business economics at the University of Washington who studies endowments and investing. "Some of that may come from his previous job where there was more political pressure to be cautious."
Harris is also making changes to compensation for employees at UTIMCO, tying it more closely to overall performance and less to specific asset classes. There are about 75 employees at the nonprofit, which is located in Austin.
While almost every asset class appears fully valued, Harris said he's intrigued by energy, a market where there's been a recent correction in prices. UTIMCO's natural resources portfolio gained 14.3 percent last year, the best-performing investment in the endowment. The university's endowments also get revenue from wells on public lands in the state.
"We just want to take a look at that market more carefully," he said.
Before it's here, it's on the Bloomberg Terminal.
LEARN MORE